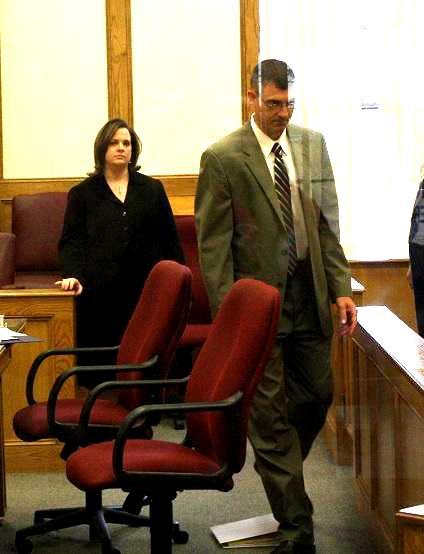 Livingston, June 21, 2011: Polk County Criminal District Attorney, William Lee Hon (right) and his Assistant D.A., Kaycee Jones minutes before the trial of Quintin Fisher began.
Trial Underway of Alleged Kimberlin Murder Mastermind, LIVINGSTON, June 22, 2011 - At 9 am on June 21, 2011, the trial of the man who allegedly orchestrated the murder of Billy Kimberlin, Jr. got underway in Judge Elizabeth Coker's 258th District Court. Defendant Quintin Joshua Fisher, 37, of Houston and his attorney, Mike Davis listened as Prosecutor and Polk County Criminal District Attorney William Lee Hon stated to a Polk County Jury that on August 21, 2009, Fisher , orchestrated the attempted robbery of the Kimberlin Family and the murder of 42 year old Billy Kimberlin, Jr.

Hon subponead cell phone records and presented a time frame and sequence of alleged events mapped out to support his argument that Fisher orchestated the attempted robbery of the Kimberlins that led to the August 21, 2009 murder of Billy Jr. According to Hon, Fisher plotted out the violent crime, furnished guns to the two assailants, and drove them to the Kimberlin residence where he dropped them off, then, according to Hon, Fisher left his partners in crime hanging as he fled not to return in the getaway car.

In his opening argument, Defense Attorney Mike Davis told the Jury that there is no concrete evidence to support Hon's case against Fisher. On day one, prosecuters Lee Hon and Assitant District Attorney Kaycee Jones focused on the events that transpired at the residence on the night of the murder.

According to witnesses, this is what happened:

Shortly after 10 pm on August 21, 2011, Alderick Lepaul Johnson and Jermain Clifton, both of Houston, attempted to force open a door leading into the Kimberlin residence in Livingston. With no success, they went to a travel trailer by the house where Robert Kimberlin, his wife, Kerry, and their daughter were living. According to Robert Kimberlin, he was watching TV with his family when the door of their travel trailer flung open and Johnson and Clifton entered with guns drawn and fixed on Kimberlin and his wife. The gunmen demanded money, but Robert stated he had none. The gunmen then assaulted Robert and Kerry when they slammed both in the head with their pistols and used duct tape and plasic security ties to tie their hands behind their backs. According to Robert's wife, Kerry, one of the gunmen threatened to assault their six year old daughter if she didn't calm down. One of the gunmen then pulled out a magazine with bullets and showed it to Robert so that Robert would know that they weren't bluffing. Johnson and Clifton then forced Robert and his family outside of their travel trailer and had them open the door to the Kimberlin house with a key.

Once inside the house, one of the gunmen spotted Billy Ray Kimberlin, Jr. sitting on a sofa and shot him fatally. In the meantime, Billy's brother, Larry Wardwell, slipped out a door and made it outside and called 911. Police were dispatched. Back in the house, Johnson and Clifton had the Kimberlins lined up in the house. The gunmen kicked open the door where Billy Kimberlin Senior and his wife Charlene were sleeping. The gunmen demanded money. Billy Senior allegedly didn't cooperate. Robert Kimberlin spoke up in order to save his dad and told the gunmen there was money (reportedly several thousand dollars) in the bathroom in a plastic igloo cooler. The gunmen allegedly opened the cooler and found money, laid it out on the floor and then picked it up. By now, police were coming, sirens blairing. The gunmen fled the scene.

Lieutenant Matt Parrish was off duty but happened to be driving with his wife in the area when he saw the police cars speeding to the Kimberlin residence. Parrish, though he was off duty, turned his vehicle with the police cars. At the time, Lieutenant Parrish didn't know what was going on, but felt he needed to help his comrades. Parrish spotted both of the alleged assailants who ran into an open garage. Parrish pulled up, got out of his vehicle unarmed and approached the two men. Parrish then identified himself as a police officer and ordered the men to stop. The two men opted to run instead. According to Parrish, they fled in different directions. Parrish pursued one of the men who had a small backpack. Both men were able to escape Parrish.

A short time later, Deputy Vance Berry with the Polk County Sheriff's Office who was driving in the area looking for the suspects saw a man matching the description of the suspects in the parking lot of Burger King. Berry pulled up in his car and observed the man talking to two females. Berry approached the suspect and asked his name. According to Berry, the suspect mumbled in response. Berry then grabbed the suspects arm and put hand cuffs on the suspect. The suspect was armed and Berry removed a 9 mm Ruger pistol from the man's back pocket. That suspect turned out to be Alderick Lepaul Johnson. Lieutenant Matt Parrish was informed of the arrest and arrived. Deputy Berry turned the suspect's pistol over to Parrish.

Both William Hon and Assistant D.A. Kaycee Jones questioned witnesses who were victims of the crime, and Officers of the law who responded to the crime. Some of the witnesses included: Robert Kimberlin (brother), Larry Wardwell (brother), Charlene Kimberlin (mother), Lieutenant Matt Parrish, Deputy Vance Berry, Livingston Police Chief, Dennis Clifton (primary investigator) and Captain Rickie Childers with the Polk County Sheriff's Office (assisted in the investigation). Defense Attorney Mike Davis asked almost every witness if they ever saw his client, Quintin Fisher, at the scene of the crime, around the scene, or if they had ever seen him before, each replied "no".

One of the possible incriminating circumstances for Fisher is that one suspect who was arrested in connection with the murder (Omega Jabar Manning) chose to talk in hopes of a plea bargain in order to avoid life in prison. Manning allegedly provided much information helping to outline Fisher as the orchestrator of the crime. Defense Attorney Mike Davis contends that Manning is lying and just made it up in so that "he could die outside prison".

The trial could wrap up by Thursday but could last into Friday.
Livingston, June 21, 2011: Charlene Kimberlin, mother of Billy Ray Kimberlin, Jr. stated "I ran to little Billy and grabbed him and hugged him, his face was cold. I felt something on my hands, it was his blood, but I kept hugging Little Billy".
Deputy Vance Berry testifies. Berry apprehended an armed Alderick Johnson on the night of the murder.
Defendent Quintin Fisher looks behind his chair as Lieutenant Matt Parrish testifies from the witness stand.
If you would like to comment on this story, we'd love to hear from you. Your name will be listed with your comment when it's posted in the Letters to the editor.