Family members grieve the loss of one of their own.

Livingston Man Murdered in Home Break In, LIVINGSTON, August 22, 2009 - Sometime shortly after 10 pm on August 21, 2009, an alleged burglary took place in Livingston at a house located at 1000 West Polk. One man (whose name is being withheld at this time) was shot and killed by one of two assailants. According to witnesses, the burglary was carried out by 2 black males who fled on foot. Officers with the Livingston Police Department, Polk County Sheriff's Deputies and DPS Troopers immediately began searching for the perpetrators within a short distance from where the burglary occurred. A suspect was apprehended in parking lot next to Subway in Livingston at around midnight. The suspect reportedly had a gun with him (possibly the murder weapon). As this story develops, PolkCountyToday.com will post updates.

A special thank you to Assignment Editor, Stash Anderson for his efforts to keep our reporters updated on events as they occur. Anderson's help is a huge part of PolkCountyToday.com's timely news releases.


LPD's Sergeant Scott Paske (left) and Lieutenant Matt Parrish search for the suspects.
DPS Troopers, Sheriff's Deputies, and Livingston Police search a vacant house near the crime scene.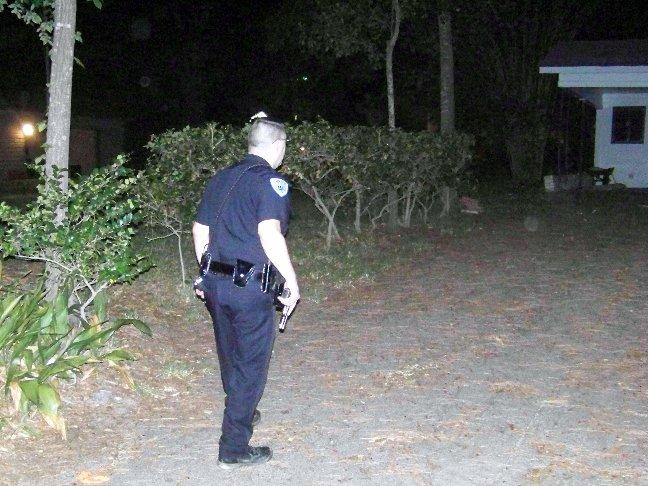 Officer Jason Thomas stands ready during the search for suspects.
(L - R) Officers Ashley Brame, Lieutenant Matt Parrish, Jason Thomas, and Chief Dennis Clifton speak with a family member outside the house where the crime took place.
Lead Investigator Captain Rickie Childers arrives to investigate the crime scene.
(L - R) Chief Deputy Byron Lyons, Sergeant Howard Smith, and Sheriff Hammack at the parking lot where one suspect was caught with a gun.
If you would like to comment on this story, we'd love to hear from you. Your name will be listed with your comment when it's posted in the Letters to the editor.