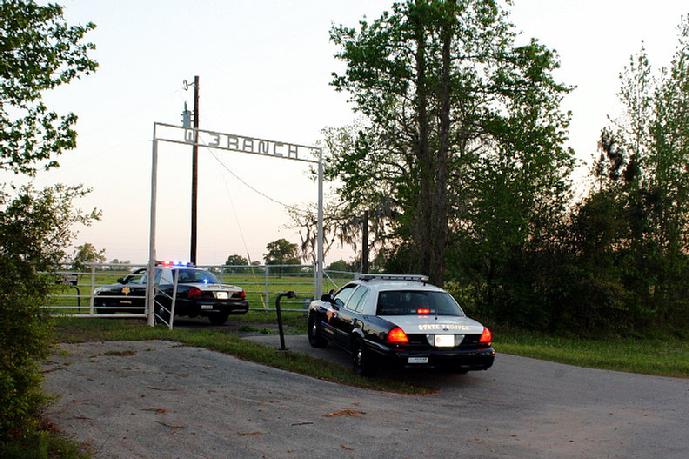 Troopers with the Texas Highway Patrol enter the front gate of W3 Ranch located off FM-1988 West.
One Dead and One Critically Wounded in Apparent Family Quarrel, LIVINGSTON, April 2, 2011 - Polk County Commissioner Precinct 1, Robert C."Bob" Willis, was allegedly shot three times by his younger brother, Ben Willis, in an apparent feud. Ben Willis is then reported to have turned the gun on himself. The call was dispatched at approximately 7 pm on April 1, 2011. Sheriff dispatchers radioed that there was a shooting at the W3 Ranch located off FM-1988 West and that the gunman was intoxicated. Deputies arrived on the scene to find Ben Willis on the front porch of his house dead from a self inflicted gunshot wound.

According to sources, Ben went to Bob's house and shot him in the chest (both houses are located at the large ranch). Bob jumped on his younger brother in an attempt to wrestle the gun from him. A struggle ensued and during the struggle, Commissioner Willis was shot 2 more times (reportedly in the shoulder and arm). Ben then left and went home. Bob Willis' wife, Julie, then got her husband into a vehicle and drove him to Livingston Memorial Hospital emergency room. Willis was then flown to Houston for treatment. According to sources, Bob Willis was able to talk. At some point shortly before Deputies with the Polk County Sheriff's Office arrived, Bob's younger brother, Ben, arrived back at his own house where he turned the gun on himself.

Investigators including Sheriff Hammack, Chief Deputy Byron Lyons and other Sheriff Investigators, DPS Troopers, 2 Texas Rangers, and Investigators form the Polk County District Attorney's Office descended on the homes of the 2 brothers where an investigation got underway. Justice of the Peace, Pct. 4, Stephen McEntyre, performed an inquest at the scene. Ben Willis' body was recovered by a first-call car from Cochran Funeral Home. At time of press, the physical status of Robert C. Willis is not known to PolkCountyToday.com.

There was another domestic Shooting in Polk County only 5 days earlier that resulted in a fatality.

In 2008 Officer Caran Coward with Livingston Police Department was killed in a domestic violence situation.
Deputy Monty Lee with the Polk County Sheriff's Office stands guard at the front gate of the W3 Ranch.
At 11:07 pm a first-call car from Cochran Funeral Home entered the W3 Ranch.
31 minutes later, the funeral car exited W3 Ranch enroute to the funeral home.
If you would like to comment on this story, we'd love to hear from you. Your name will be listed with your comment when it's posted in the Letters to the editor.