53 year old Naresh Patel, of Sugarland was driving this 2003 Toyota 4Runner.
Driver Attempts a Crazy U-Turn, Causes Head-on Collision, LIVINGSTON, December 13, 2016 - At approximately 1:04 pm on December 13, 2016, a blue 2003 Toyota 4Runner, driven by Naresh Patel, 53, of Sugarland was north-bound on US-59 (next to the radio station). Patel allegedly passed a crossover section of the road and attempted a U-turn in the north-bound (turning around south) to go back to the crossover. Patel was slammed head-on (glancing blow) by a black 2015 Chevy Trax, driven by Norman Weiss, 74, of Kingwood. The impact caused Weiss' vehicle to leave the pavement to the left and roll coming to rest upside down in the center median. Officer Scott Paske with Livingston Police Department drove up on the scene and immediately radioed for a trooper and an ambulance. Allegiance Ambulance Service was dispatched to the scene along with other officers with Livingston PD, deputies from the Polk County Sheriff's Office and Troopers Darwon Evans and Donny Akers with the Texas Highway Patrol. Amazingly, nobody was injured. Traffic on the north-bound side of 59 was partially blocked during investigation and cleanup. Patel was cited for turning left in the wrong lane. A rollback wrecker from Ken's Towing recovered Weiss' vehicle and it will be stored at Pollock's Body Shop in Livingston. Patel's vehicle was recovered by Fawbush Body Shop and will be stored in Goodrich.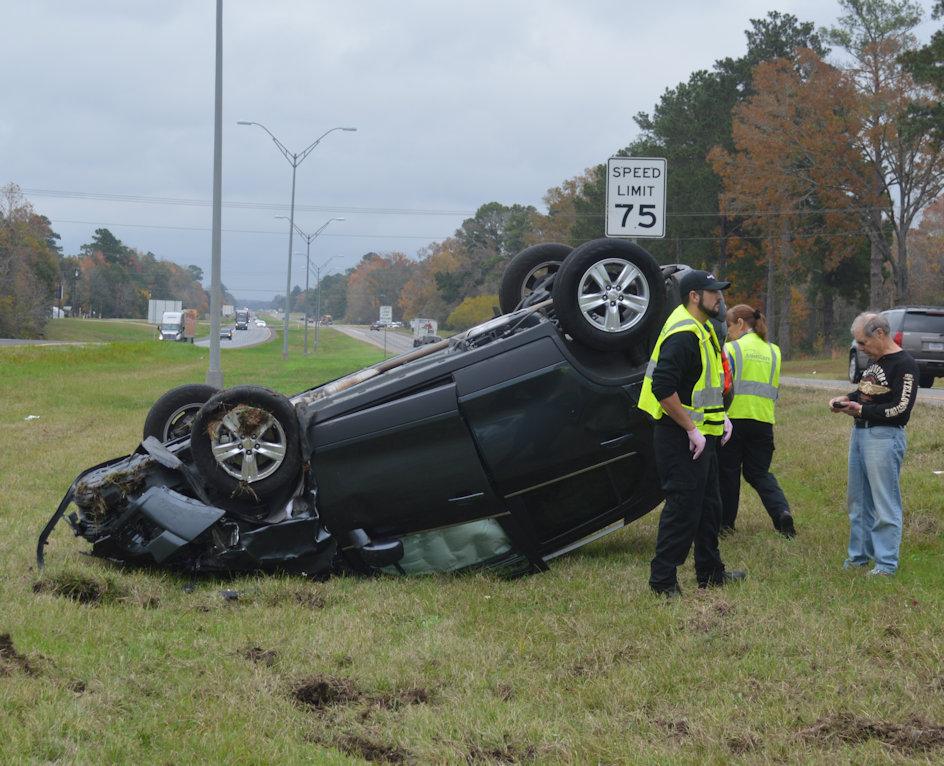 74 year old Norman Weiss, of Kingwood, was driving this 2015 Chevy Trax.
Patel (in the Toyota) was north-bound in the right lane and attempted a U-turn into the next lane and was struck by Weiss' vehicle (the Chevy).
Patel (left) was cited for left turn in the wrong lane (speaking with Trooper Donny Akers).
Houdini assisted Ken's Towing with recovery services.
Mixi, Molly, and Heidi were on duty for PolkCountyToday.com.
If you would like to comment on this story, we'd love to hear from you. Email us at pctletters@gmail.com. Be sure to include the story subject in the subject line of your email, also list your name and town in your letter. Your letter will be posted in

Letters to the Editor

.