A red Dodge 2500 pickup crashed into a building in Soda.
Truck Crashes Into Business, SODA, November 28, 2014 - At approximately 4:05 pm on November 28, 2014, a red 2007 Dodge Ram 2500 pickup driven by Carl Eddie Limbrick, 32, of Jasper, was east-bound on US-190 East. According to Limbrick, his left front tire suddenly broke away from his truck causing his pickup to leave the pavement to the right. 300 feet later, his pickup crashed into to Hickory Hollow store (across the road from Soda Baptist Church). Americare Ambulance Service was dispatched to the scene along with Deputy Cody Hardy with the Polk County Sheriff's Office, and Troopers Kevin Burman and Chad Seamans with the Texas Highway Patrol. Fortunately, nobody was injured. No citations were issued. Limbrick's vehicle was recovered by Ken's Towing and will be stored at Harrison Body Shop in Livingston.
Special thank you: Ken with
Ken's Towing
In 2008 a car slammed into a house in Livingston
In 2010 a pickup pulling a trailer slammed into an old building in Leggett
In 2010 a Cadillac crashed into a house in Goodrich
In 2011 a car crashed into City Hall in Goodrich
In 2012 a car slammed into a building in Seven Oaks
Carl Eddie Limbrick's 2007 Dodge Ram 2500 crashed into the front of the building causing the porch roof to collapse on one side.
Driver Carl Limbrick was unharmed from the crash.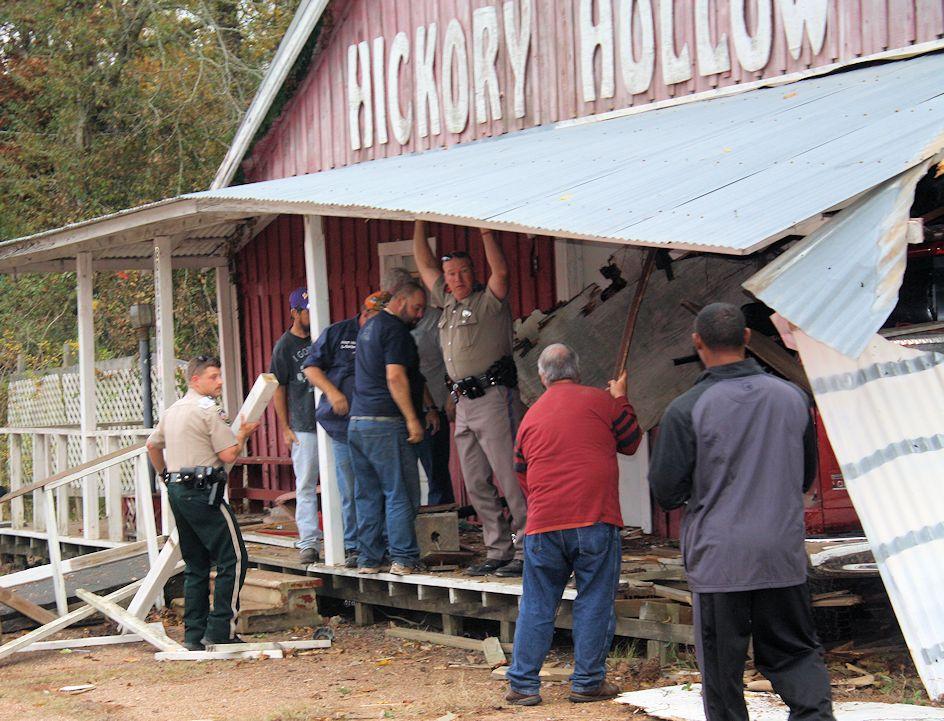 Trooper Kevin Burman pushes up the collapsed roof as a helper uses a support to prop the roof up.
This wheel broke away from the truck causing the accident.
Mixi, Molly, and Heidi assisted in the reporting of this story.
If you would like to comment on this story, we'd love to hear from you. Email us at pctletters@gmail.com. Be sure to include the story subject in the subject line of your email, also list your name and town in your letter. Your letter will be posted in

Letters to the Editor

.