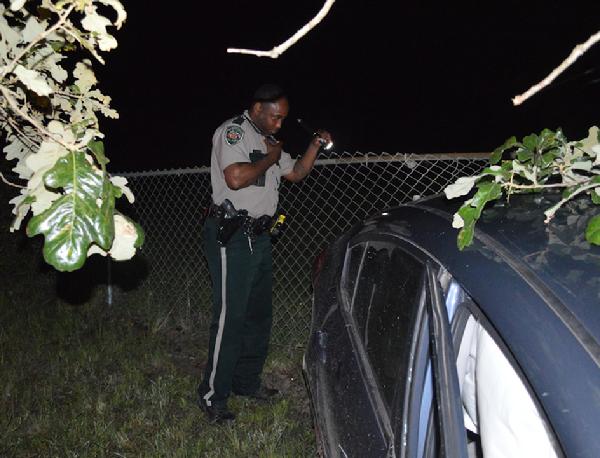 Deputy Michael McDuffy with the Polk County Sheriff's Office assisted in investigation.
Driver Fails to Yield to Oncoming Traffic, LEGGETT, June 25, 2017 - At approximately 9:05 pm on June 25, 2017 the driver of an older model Chevy Suburban was sitting at a stop sign on Upper Leggett Road and attempted to pull onto FM-642 East. The driver failed to yield to a west-bound Kia Forte. The two vehicles collided. The collision caused the Kia Forte to slide off the pavement and into a chain link fence while the Chevy Suburban came to rest on the shoulder of the west-bound side. Allegiance Ambulance Service was dispatched to the scene along with Deputy Michael McDuffy and Corporal Javier Segura with the Polk County Sheriff's Office and a Trooper from San Jacinto County. Amazingly, nobody was hurt. The driver of the Chevy Suburban is likely facing a citation for failure to yield. Both vehicles were towed from the scene.
The driver of this Chevy Suburban attempted to turn off of Upper Leggett Road onto FM-942 East and failed to yield to an oncoming vehicle.
This Kia Forte was west-bound and slammed into the Suburban.
Mixi and Molly were on duty for PolkCountyToday.com.
If you would like to comment on this story, we'd love to hear from you. Email us at pctletters@gmail.com. Be sure to include the story subject in the subject line of your email, also list your name and town in your letter. Your letter will be posted in

Letters to the Editor

.