Keith Ladelle Wilson, 21, of Livingston
Polk County Jury Hands Down 14 Years to Livingston Man for Sexual Assault, LIVINGSTON, August 22, 2013 - The punishment phase for a young Livingston man concluded today in Judge David Wilson's District Court as a Polk County Jury handed down 14 years for the May 29, 2010 sexual assault of a 17 year old girl who was passed out from drinking. Keith Ladelle Wilson, 21, of Livingston stood silently as Judge David Wilson (no relation) read the decision. Wilson was found guilty sexual assault by the same jury yesterday (August 21). During punishment arguments, the special prosecutors (not from Livingston), argued that in order for Wilson to change, he must accept responsibility for his actions (actions, that though found to be guilty, Wilson still denies). They stated that by denying he ever committed the sexual assault is not accepting responsibility. She pointed out other incidents that Wilson was involved in (groping and touching other women). She pointed out that Wilson's victims didn't get a second chance. Wilson's attorney argue that since his victim was passed out, she couldn't remember the assault. During the final argument to the jury, the other special prosecutor stated to the jury that Keith Wilson came from a good home, and that he's smart and knows right from wrong. He insisted that Wilson has no regard for the laws of Texas pointing out his past transgressions against other women and his alleged stealing. He implored the jury to decide when they feel comfortable with Wilson back in town. He asked them to decide when they'll be comfortable with him around their daughters. He then told the jury to send a message and give Wilson the maximum sentence of 20 years in prison. He stated that the message would be to our society that they value the innocence of other girls, but that the message would also be to "the other Keith Wilsons" out there that this type of behavior will not be taken lightly.
After over 2 hours of deliberating on the extent of Wilson's punishment, the jury returned with a verdict of 14 years in the Texas Department of Corrections. Wilson will have to serve at least 7 years before being eligible for parole. Wilson is expected to appeal.
Original Story Below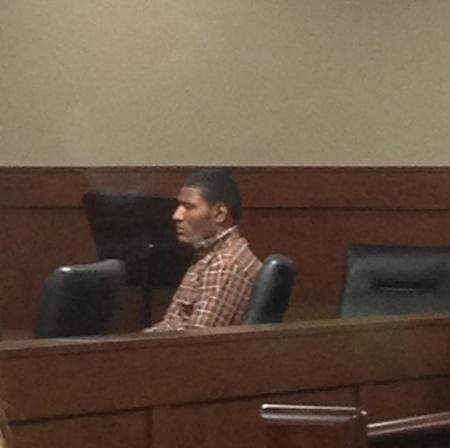 Livingston, August 21, 2013: Keith Wilson, 21, of Livingston, listens during the punishment phase of his trial of sexual assault.
Jury Finds Livingston Man Guilty of Sexual Assault of 17 Year Old Girl, LIVINGSTON, August 21, 2013 - A Polk County Jury found a 21 year old Livingston man guilty of the crime of sexual assault. The trial took place in District Judge, David Wilson's court (Judge Wilson has no relation to defendant Keith Wilson). Defendant, Keith Wilson, 21, of Livingston, is facing up to 20 years in prison for the 2010 rape of a 17 year old girl who was passed out at the time of the assault. On May 29, 2010, Wilson was at a party in Livingston. The party was attended by youths from Polk County and nearby vicinities. One girl in attendance was the victim, (17 at the time), of Huntsville. According to witnesses, there was much underage drinking going on at the party. She had her fill and was passed out. Her sister and another girl took her to a bedroom in the home and laid her down on the bed to sleep off her intoxication. Once they left the room, Keith Wilson slipped into the room and locked the door. Wilson then climbed on top of her and penetrated her (sexual intercourse). Her sister and another girl returned and forced the door open to find Wilson on top of her. Wilson jumped off of the girl and bolted for the door, he attempted to run out of the house, but party goers stopped Wilson and held him until police arrived. A pair of special prosecutors were sent in to try the case.
Punishment Phase...
After the verdict was handed down, a brief recess was taken and the court reassembled and began the punishment phase of Wilson's trial. During the punishment phase, Wilson's past transgressions were brought to light for the jury. Among other things, Wilson had a history of allegedly grabbing girls at Livingston High School. One witness stated to the jury from the witness stand that while she attended Livingston High School, Wilson grabbed her breast, crotch and butt. She told Wilson to stop, but Wilson wouldn't stop. In 2009, Wilson was found guilty of grabbing a female student in a sexual way. In 2011 (after the 2010 sexual assault of) Wilson allegedly assaulted a prostitute but wasn't charged after the prostitute decided to drop the charges. An assistant manager from Livingston Walmart took the stand told how Wilson stole a cell phone charger and some athletic gloves from Walmart. Further, a cousin of Wilson who works at Baskins department store took the stand and told how Wilson to attempted steal some cowboy boots.
Keith Wilson Takes the Witness Stand...
Wilson was called to the witness stand by his attorney and was asked, if on probation (rather than sentenced to prison), could he be rehabilitated. Wilson said yes. At one point Wilson broke down crying asking the jury if they could find it in their hearts to forgive him, and if he could get probation rather than prison. During cross examination, the prosecutor asked Wilson about the stealing at Walmart, Wilson stated that he doesn't remember. When asked about grabbing girls while at Livingston High School, Wilson again stated that he doesn't remember. Wilson stated that he only remembers hugging some girls while in school. The special prosecutor asked Wilson why he would ask the jury to forgive him for something if he claims he didn't do it. Wilson stated he didn't know what the prosecutor was asking.
Judge David Wilson adjourned the court and the punishment phase will conclude today (August 22, 2013).
Wilson as a senior in 2009 at Livingston High School.
If you would like to comment on this story, we'd love to hear from you. Be sure to specify which story. Your name will be posted with your comment in
Letters to the Editor
.