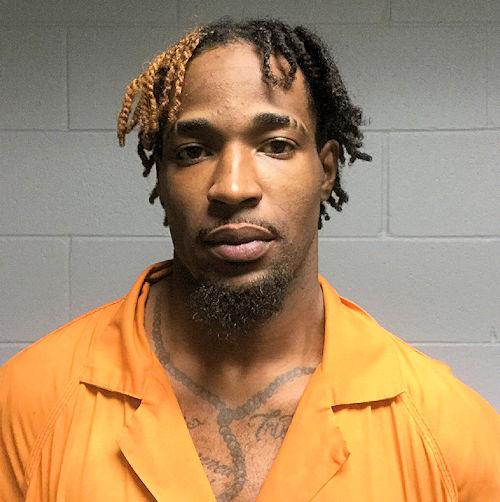 23 year old Keshone Jameir Runnels is known to hang out in Corrigan and Diboll vicinities.
Driver Flees Police In Stolen Vehicle, LIVINGSTON, October 23, 2020 - The Polk County Sheriff's Office is requesting the assistance of the public to locate Keshone Jameir Runnels 23 year old black male who is wanted out of Polk County. Runnels currently has three outstanding felony warrants for his arrest for evading arrest and detention with a vehicle out of the Polk County Sheriffs Office, Corrigan Police Department, and Onalaska Police Department.
On 10-13-2020, Corrigan Police Department attempted to conduct a traffic stop on a white Dodge dually in which the suspect proceeded to evade with a vehicle that involved multiple agencies.
The driver was identified as Keshone Jameir Runnels. There was also a black female passenger in the vehicle with runnels who has not yet been identified. The suspects abandoned the vehicle in a wooded area in Seven Oaks and fled on foot. A search of the area was conducted but neither subject was located.
Keshone Runnels is believed to be driving a 2008 white Dodge dually pickup truck license plate # NFS 1080, and is known to reside in the Corrigan/Diboll area. He has been charged previously for unlawfully carrying a weapon, and is believed to be armed.
If anyone is found aiding, harboring or hindering the arrest of runnels charges will be filed against you for hindering apprehension or prosecution which is a third degree felony punishable by 2 to 10 years in prison.
If you have any information as to the whereabouts of Keshone Runnels Contact Crime Stoppers at 936-327-stop or Polk County Narcotics Detective Victor White or Lieutenant Andy Lowrie at 936-327-6810, where you can remain anonymous and may collect a cash reward for information leading to his arrest.
If you would like to comment on this story, we'd love to hear from you. Email us at pctletters@gmail.com. Be sure to include the story subject in the subject line of your email, also list your name and town in your letter. Your letter will be posted in

Letters to the Editor

.