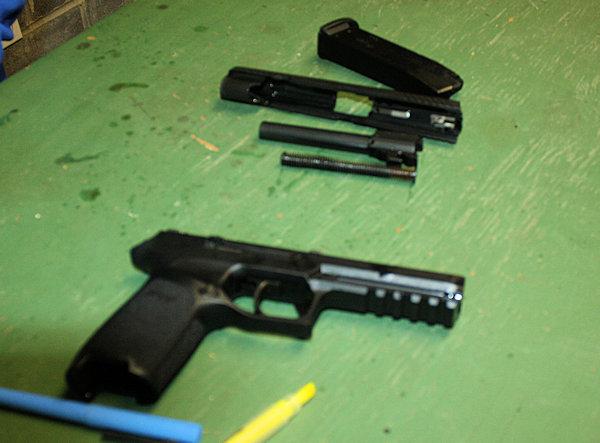 Sig Sauer 9 mm pistol, field stripped (Editor's note: Apologies for blurred picture).
Firearms Efficiency: Sheriff's Office Opts for 9mm Pistol, MOSCOW, January 26, 2017 - Polk County Sheriff, Ken Hammack recently made the decision to change the Sheriff's Office official sidearm from .357 magnum, to 9mm pistol. Polk County aren't the only ones joining this trend. In recent years, the US military switched from .45 caliber sidearm to 9mm and the Texas Department of Public Safety is also making the switch from .357 to 9mm. "The 9mm is more cost effective, easier to fire, and has a higher capacity for rounds (bullets)", said Sheriff Hammack. Indeed. The cost for 9mm ammo is one third cheaper than .357 and the 9mm has better accuracy. Hardcore gun enthusiasts will scream that the 9mm doesn't have the knock down power of a .357, but the difference is mild at most. The 9mm has less kick and is easier to control. As far as cost, one third price reduction for ammo might not seem like a big deal, but when you've over fifty Polk County Sheriff's Deputies that have to range qualify every two years, and they fire around 100 rounds (average) per qualification, the costs for little old Polk County adds up quickly. To make the transition easier (budget wise), the Sheriff's Office traded in their .357s and got a MASSIVE discount for their Sig Sauer 9mms. In all, the Sheriff's Office received a total of 54 Sig Sauer 9mm pistols. The normal cost for a Sig Sauer 9mm is about $600. 600 times 54 equals $32,400. BUT with the discount, the Sheriff's Office paid an easy $3,000 for 54 brand new Sig Sauers (that's approximately one tenth of the regular cost). Polk County Sheriff's Deputies rotated in and spent a half day in class learning about their new sidearm, and learning about State of Texas Legislative updates regarding firearms. The next half of the day was spent firing their new weapons and qualifying. For qualification, each deputy fires around 100 rounds of ammunition and is required to achieve 90 percent accuracy. Additionally, peace officers from other departments (like Livingston Police, Onalaska and Corrigan Police, Constables) were welcome to take advantage of the training and qualifying. The officers also disassemble their weapons, learn to clean them, and keep them in optimum firing condition. The Sheriff's Office also received maximum safety level three holsters with each new 9mm pistol. The significance of a level three holster means that if a suspect decides to resist police, or become combative, then both of the officer's hands are free to subdue the suspect without fear of the suspect grabbing the officer's weapon and using it against the officer. Level three holsters are double guarded with safety locks that only the officer can access. Overall, the 9mm pistol is perfect for real life situations and has more than enough knock down power, is more cost efficient, and smoother and easier to operate.
Polk County Sheriff's Deputies and Peace Officers attend a half day class in Moscow where they learn about legislative updates regarding firearms and law enforcement in Texas.
Deputies must, by law, qualify every 2 years with their sidearm (Sheriff Ken Hammack looks on (wearing blue shirt at left)).
After qualification, Deputies are required to disassemble their weapons and clean them.
Each new pistol comes with a level 3 maximum safety holster (Editor's note: Apologies for blurred picture).
If you would like to comment on this story, we'd love to hear from you. Email us at pctletters@gmail.com. Be sure to include the story subject in the subject line of your email, also list your name and town in your letter. Your letter will be posted in

Letters to the Editor

.