Head Coach Randy Rowe talks to his men during a time out.

Lions Overcome Own Mistakes to Beat Booker T. Washington, HOUSTON, September 20, 2009 - On September 19, 2009, the Livingston Lions Varsity Football Team went down to the big city and nearly beat themselves but prevailed over Booker T. Washington anyway. The offense showed up with it's reliable power running game. Here guys, just climb on my back and I'll carry us to victory. Quentin Jackson was under the weather but seemed to will the team to victory past his and their own mistakes to prevail over Booker T. Quarterback Blake Burman threw 2 touchdown passes continues to improve as a leader on the field. Burman also protects the ball and isn't afraid to use his legs. The defense on the other hand was way out of sync. Blown coverages on opposing receivers, missed assignments, and Booker T's ability to seemingly run the ball at will made for a close game that the Lions should've had blown wide open by the end of the 3rd quarter. (See Clint Davis' Lion Report).

More than just talent, Quentin Jackson showed character by digging deep and running hard when he was under the weather.
The other half of the power running game: Ki Ki Johnson poured it on and made life miserable for the Booker T. defense.
Another offensive weapon: Greg Johnson is a third potent power runner in Rowe's arsenal.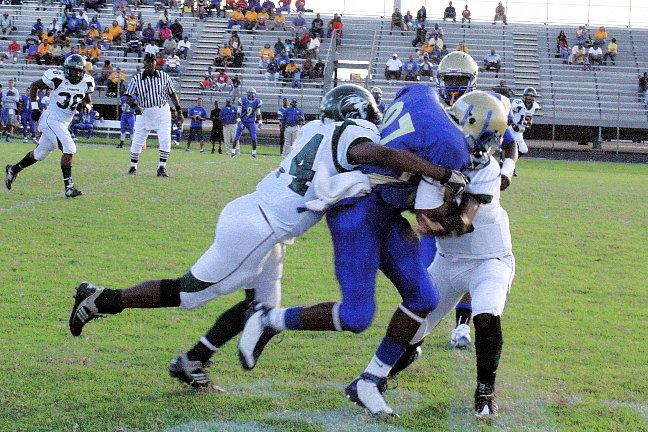 The Lion defense struggled against the ground game and passing game of Booker T.
Greg Johnson scampers for tough yardage.
Booker T had a good passing game and tall receivers.
Quarterback Blake Burman showed Booker T that he could pass as well. In this picture Burman completes a touchdown pass to Ki Ki Johnson.
Burman drops back and completes a touchdown pass to Cassity Land.
Talented receiver Cassity Land comes off the field after catching a Burman pass for another touchdown.
If you would like to comment on this story, we'd love to hear from you. Your name will be listed with your comment when it's posted in the Letters to the editor.