UPDATE:
Burglar Arrested in Goodrich on a Routine Traffic Stop Was Quite Prolific (Please read below):
Trooper Ramey Bass arrested Carter following a traffic stop.
LIVINGSTON, May 7, 2010 - On May 4, 2010, Michael Eugene Carter, 39, of Livingston, was arrested and charged with the burglary of a habitation. Carter's bond was set at $25,000.

Detectives Christopher Lima, Richard Delaney, and Stan Galloway noticed the burglary was similar in nature to several other burglaries reported in the vicinity of Polk County. Based on information gathered during the investigation, the detectives executed two search warrants in Polk County recovering stolen jewelry, guns, and televisions at both locations.

Detectives also identified a large amount of stolen jewelry in several Houston Pawn Shops in addition to the stolen property seized that was identified from several burglaries in Lamar County, Paris, Texas.

On May 7, 2010, Michael Eugene Carter was charged with three more counts of burglary of a habitation in Polk County after detectives conducted interviews and obtained subsequent confessions. Lamar County Sheriff's detectives are in the process of obtaining a warrant of arrest for burglary of a habitation in connection offenses committed in their jurisdiction.

Several thousand dollars worth of stolen property has already been recovered that was reported from the four burglaries in Polk County and the burglaries in Lamar County with more property yet to be recovered from the Houston Pawn Shops by Polk County Detectives.


(Original Story and Pictures Below)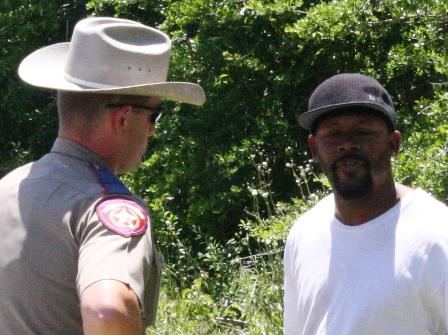 Trooper Ramey Bass talks to Michael Carter of Livingston.

Practicing Burglar Busted on a Traffic Stop, GOODRICH, May 5, 2010 - On May 3, 2010, the Polk County Sheriff's Office initiated an investigation into a burglary that was reported off of FM-350 North approximately 4 miles west of Moscow. According to Detective Christopher Lima, during the commission of the crime, several items were taken from inside the residence including firearms, jewelry, and a computer. The items taken totaled over $6,000. Lima says the homeowner played a huge role in the investigation by having picture surveillance of his property available for investigators. A suspect was developed in the case a search for the suspect was immediately initiated. "The more time that goes by, the less likely the Sheriff's Office is to recover the stolen property. We like to move quickly when we have good information to go on", Lima said.

May 4th (1 Day Later)...
Sergeant Christian Schanmier with the Polk County Sheriff's Office spotted a vehicle matched a description of the suspect's vehicle traveling south on US-59 towards Goodrich. Trooper Ramey Bass with the Texas Highway Patrol pulled the vehicle over for speeding on Loop 393 in Goodrich. Minutes later, Trooper Bass was joined by Schanmier and Detective Lima. Lima positively identified the vehicle and the driver Michael Eugene Carter, 39, of Livingston. Both the vehicle and the driver matched the description of the burglary that occurred just one day earlier on FM-350 North. Lima gained consent to search the vehicle and some of the stolen property was located inside. Carter was taken to jail for failure to identify fugitive from justice for giving a false name and having an outstanding warrant for child support.

Confession Obtained...
Michael Carter was interviewed by Detective Lima at the Sheriff's Office and Carter confessed to the burglary of the residence off 350 North. The Polk County Sheriff's Office has since recovered the items taken from the residence and returned the items to the rightful owner. Lima says that more charges are expected in the case as the investigation continues and the location of a female who assisted Carter in the burglary by driving him to and from the residence.

Special thank you: Detective Christopher Lima, Assignment Editor, Stash Anderson

Bass is assisted by Lieutenant Mark Jones of the Polk County Sheriff's Office.
Detective Christopher Lima (right) and Seargeant Christian Schanmier speak with Carter's mother who was a passenger in the vehicle.
Trooper Bass loads Michael Eugene Carter into his unit and took him to the Polk County Sheriff's Office where Carter confessed to burglary a short time later.
If you would like to comment on this story, we'd love to hear from you. Your name will be listed with your comment when it's posted in the Letters to the editor.