Head Coach Marty Drake and the Go Getters celebrate another buzzer beater that beat the Polk County Peace Officers Again.
Go Getters Beat Polk County Peace Officers Again, LIVINGSTON, February 21, 2012 - The Livingston Go Getters continued their dominance over the hapless Polk County Peace Officers again in their annual friendly basketball game. While the Peace Officers actually had the score tied at one point early in the first half, the relentless Go Getters wouldn't let up and their persistence paid in the end game. With the score tied at 56, Sammy "The Bull" Drake hit a dramatic short range buzzer beater that once again left the Peace Officers scratching their heads wondering what it will take to beat the Go Getters. After the game, Go Getter Head Coach, Marty Drake (a peace officer himself) was gloating about his teams dominance over the peace officers, "They don't even belong in the same gym as us" Drake Boasted. Drake continued "They're coached by Howard Smith and assistant Andy Lowrie, and they're just not very good".
Last year the peace officers were knocking on the door, this year they were banging on the door, next year the door will probably get kicked in on 'em. The confidence of the Go Getters is surging while the Polk County Peace Officers certainly must be doubting themselves after losing again. The final score was Go Getters 58, Polk County Peace Officers 56 (always a brides maid and never a bride). The Polk County Peace Officers needn't quit their day jobs.
Go Getter Head Coach Marty Drake Requested a Special thank you: Livingston Police Department, Texas Department of Public Safety, Polk County Sheriff's Office, Local Game Wardens, and PolkCountyToday.com
Detective Richard Delaney looked winded early in the first quarter.
Delaney and Sergeant William Jerry wore matching outfits...Hmmmmmm...
The ineptness of the Peace Officers had Head Coach Howard Smith pointing fingers at his own team.
Clumsy and incompetent, Detective Leon Middleton falls over his own feet trying to defend a much more skilled Go Getter.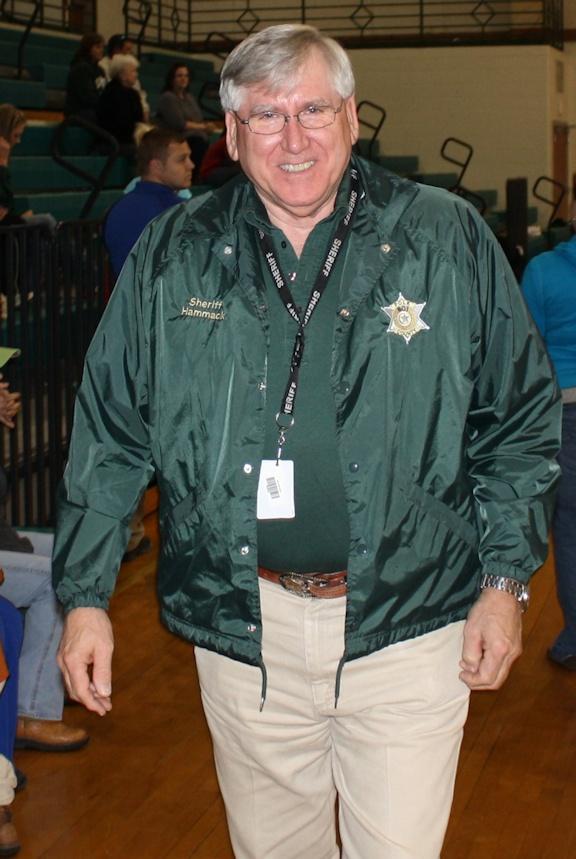 After watching the peace officers flailing for so long, Sheriff Hammack had to walk out (he later returned).
Middleton complained about the officiating early anbd often, but the refs ignored him and focused on their jobs.
A good sport: Sheriff Hammack handed out t-shirts to the Go Getters at the conclusion of the game.
In the end it was all smiles.
If you would like to comment on this story, we'd love to hear from you. Be sure to put which story in the blank provided below. Your name and your comment will be posted in the Letters to the Editor.