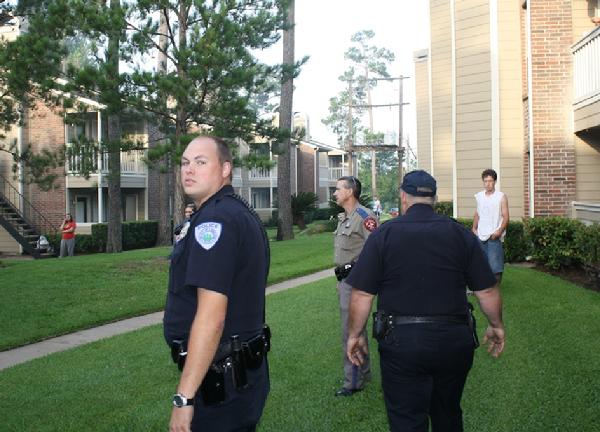 Officer Kaleb Barker (left) with Livingston Police Department.
Fire at the Pine Hill Apartments, LIVINGSTON, June 21, 2013 - Shortly before 7 am on June 21, 2013, a fire was reported from the Pine Hill Apartments in Livingston. The Livingston Volunteer Fire Department was dispatched to the scene along with Americare Ambulance Service, Livingston Police Department, and City Electrical Workers. According to witnesses, flames were shooting from the apartment. Firemen put the fire out, but the interior of the second floor aparment (Unit 612) is heavily damaged from fire, smoke and water. Reportedly, nobody was home during the fire. The fire is under investigation by City of Livingston Fire Marshal, Josh Mohler.
Smoke billows from Unit 612 of the Pine Hill Apartments.
Livingston Fire Chief, Corky Cochran (left) communicates to his men.
If you would like to comment on this story, we'd love to hear from you. Be sure to specify which story. Your name will be posted with your comment in
Letters to the Editor
.