Livingston Fire Marshal, Josh Mohler takes pictures at the alleged entry point (large shattered window).
Burglary of a Building, Arson, Suspect in Deep Trouble, LIVINGSTON, March 27, 2016 - At approximately 9:40 pm on March 26, 2016, Sergeant Darrell Newman and Dallas Early with Livingston Police Department, were dispatched to Livingston Lawn and Garden off Pan American Drive to investigate an alarm. When the officers showed up, everything seemed normal and there were no problems. They were then alerted that there was suspicious activity at 511 Pan American Drive (Livingston Lawn and Garden's inventory storage facility). Sergeant Newman went to the location (just a littler further down on the opposite side of the road). When Newman arrived, he observed a parked Toyota Corolla and a man walking on the property. Further, there was smoke coming from the building. Newman asked the man (Kalani Romelo Mann, 28, of Spring) what he was doing. Mann stated that the building was on fire and that he was trying to put it out. In the meantime, Livingston Volunteer Fire Department was enroute. Newman detained Mann and placed him in the back of his patrol unit. When firemen arrived, and were able to get into the building. They found two tires burning in the middle of the floor in the back storage area. The firemen snuffed out the flames, then dragged the tires out of the building. There was also a large glass window that was shattered (suggesting a possible a break in). The fire did damage the building and some of the inventory inside. The building is actually owned by Marvin Hicks who is renting the building to Livingston Lawn and Garden. Kalani Mann was in possession of Camel cigarettes. When police inspected the broken glass, they found a Camel cigarette in the shattered glass that was the exact kind that Mann was in possession of. Mann was arrested and is facing felony charges of burglary of a building and arson. His vehicle was recovered by Harrison Body Shop and will be stored in Livingston.
Firemen get a hose into the area where the tires were burning.
Two tires side by side burning in the back storage room at 511 Pan American Drive in Livingston.
Officer Dallas Early observes the burning tires.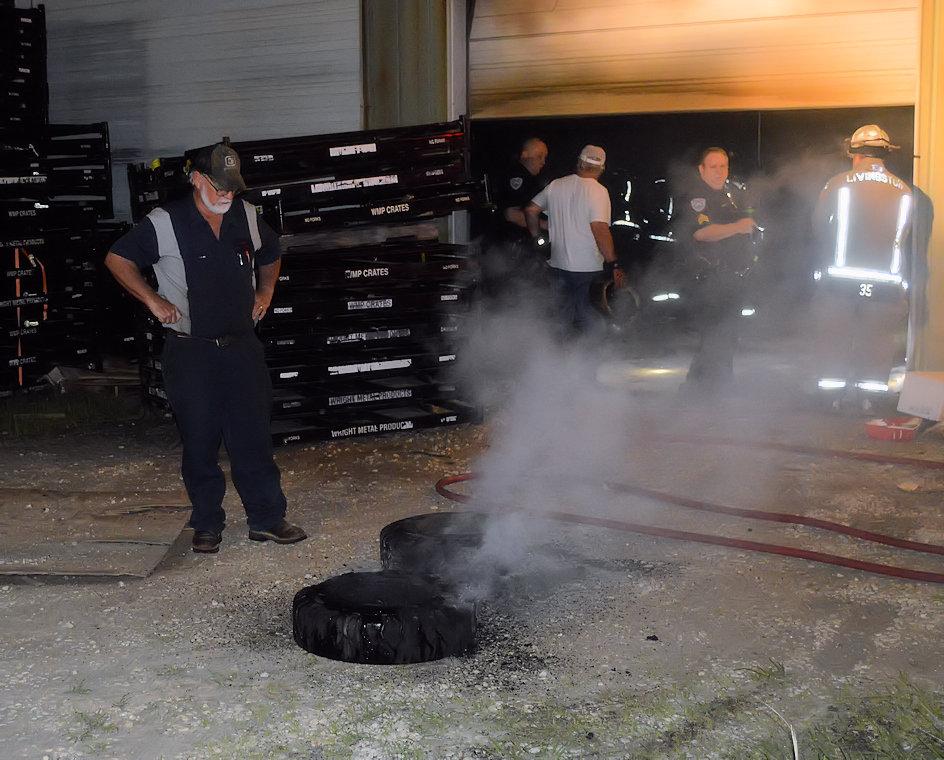 Livingston Lawn and Garden owner, Ronnie Wood looks at the tires.
Sergeant Darrell Newman placed 28 year old Kalani Romelo Mann, of Spring under arrest. Mann may be facing charges of burglary of a building and arson.
A cigarette found in the area of the shattered window (entry point) matched the cigarettes that Mann was in possession of.
Mann's vehicle was recovered by Harrison Body Shop.
Houdini assisted with towing duties.
Heidi was on duty for PolkCountyToday.com.
If you would like to comment on this story, we'd love to hear from you. Email us at pctletters@gmail.com. Be sure to include the story subject in the subject line of your email, also list your name and town in your letter. Your letter will be posted in

Letters to the Editor

.