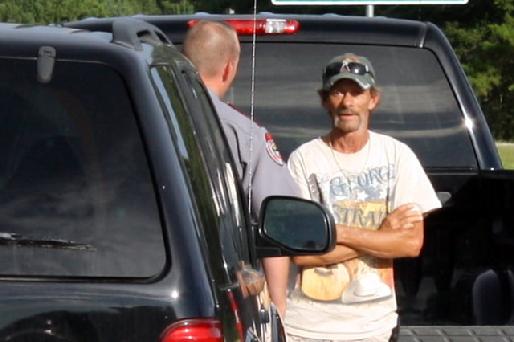 Officer Terry Valka (left) stopped Robert C. Davis of Onalaska for driving erratically. Valka had just gotten off work and was in his personal vehicle.
Alert Officer Nabs Dangerous Driver, ONALASKA, July 27, 2010 - Shortly after 6 pm on July 27, 2010, Officer Terry Valka with the Onalaska Police Department had just got off work and was on his way home in his personal vehicle (but still in uniform). Valka spotted a black 2008 Chevy Silverado that was east-bound on US-190 West. The vehicle was driving in the west-bound lane of oncoming traffic. The vehicle, driven by Robert Clayton Davis, 54, of Onalaska, pulled into the entrance of the Cedar Point subdivision, then pulled out of the entrance and stopped on the shoulder of 190. Officer Valka immediately stopped his vehicle, got out, and approached Davis. Within minutes, Valka was joined by Officer Perkins (also with Onalaska PD). Davis appeared to be intoxicated. DPS Trooper David Flowers was summoned and arrived to investigate. Flowers could see that Davis appeared intoxicated and performed a field sobriety test on Davis. Davis had trouble performing the tasks required for a field sobriety test and was placed under arrest for suspicion of driving while intoxicated. It is not known what Davis was under the influence of, (possibly pills), but by all appearances and actions, he was clearly intoxicated. A rollback wrecker from George White Wrecker Service recovered Davis' vehicle. The scene was cleared by 7:20 pm.
Robert Davis stopped at the entrance of the Cedar Point subdivision.
Trooper David Flowers with the Texas Highway Patrol arrived to investigate.
Trooper Flowers began to administer a field sobriety test.
Flowers placed Davis under arrest for suspicion of driving while intoxicated as Officer Valka looks on.
One of Onalaska's finest; Vehicle Recovery Specialist George White sizes up the 2008 Chevy Silverado...
....and loaded it onto his rollback wrecker.
If you would like to comment on this story, we'd love to hear from you. Your name will be listed with your comment when it's posted in the Letters to the editor.