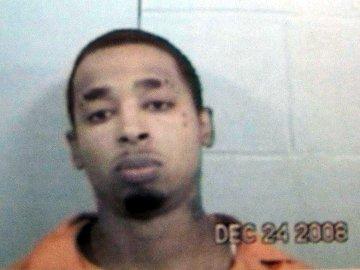 Andrew Stubblefield, 20, was given multiple chances.
Man Who Robbed Family at Gunpoint Sentenced to 40 Years in TDC, LIVINGSTON, February 4, 2009 - On February 3, 2009, defendant Andrew Lee Stubblefield, 20, of Livingston, was handed down a 40 year sentence in Texas Department of Corrections by 258th District Judge Elizabeth Coker. Stubblefield was found guilty of robbing a family at their fireworks stand and was caught. Stubblefield was initially given multiple chances to correct his actions but repeatedly violated the terms and conditions of his probation faced Judge Coker and Polk County Assistant District Attorney, Kaycee Jones. The following is a press release from the Polk County Criminal District Attorney's Office:

On February 3, 2009, 258th Judicial District Judge Elizabeth Coker sentenced Andrew Stubblefield to forty years in the Texas Department of Criminal Justice for Aggravated Robbery. On June 30, 2006, Stubblefield robbed a family owned fireworks stand at gunpoint in Polk County. Five members of the family, including a 3-month old child and her parents, were threatened with the gun unless they gave Stubblefield money. The victims gave Stubblefield a money box containing approximately $300.00. Stubblefield then took off running, however, one of the victims retrieved his own pistol and chased after him. The victim came across a car parked nearby and confronted the driver, Edward George. Within moments, Stubblefield also arrived at the car and attempted to get into the vehicle. At that time, the victim confronted Stubblefield and held him until law enforcement arrived. A Polk County Sheriff's deputy arrived and arrested Stubblefield for Aggravated Robbery.
Due Stubblefield's young age at the time and his lack of adult criminal history, he was sentenced to ten years deferred adjudication and placed on probation. Soon thereafter, he violated the terms of his probation and was placed in a Youthful Offender Residential Program in Harris County. However, he was kicked out of that program for fighting with a fellow inmate and was then sentenced to six months in the Polk County Jail as a condition of probation. After his release from the jail he again violated the terms of his probation. On February 3, 2009, a hearing was held before Judge Coker. Assistant Criminal District Attorney Kaycee Jones presented witnesses, including Stubblefield's probation officer and one of his victims. Tom Selman, Angelina County Constable Precinct 4, testified about Stubblefield's reaction when he arrested him for the probation violations. Stubblefield gave him a false name, yelled, cursed and resisted Selman's attempts to place him under arrest. At the conclusion of the testimony, Judge Coker sentenced Stubblefield, now 20 years old, to forty years in prison.

"The Polk County District Attorney's Office is extremely pleased with Judge Coker's sentence. At the time the robbery took place the DA's office consulted with the victims and everyone agreed because Stubblefield was only 17years old he should have a chance to turn his life around so he was placed on probation. Many young defendants deserve a second chance and the DA's office is willing to give those people a chance, but when their actions demonstrate they will not take advantage of the opportunity, we will take action to protect our community." Further, Jones stated, that as he was convicted of an aggravated robbery he must serve at least half of the sentence before he is eligible for parole.
If you would like to comment on this story, we'd love to hear from you. Your name will be listed with your comment when it's posted in the Letters to the editor.