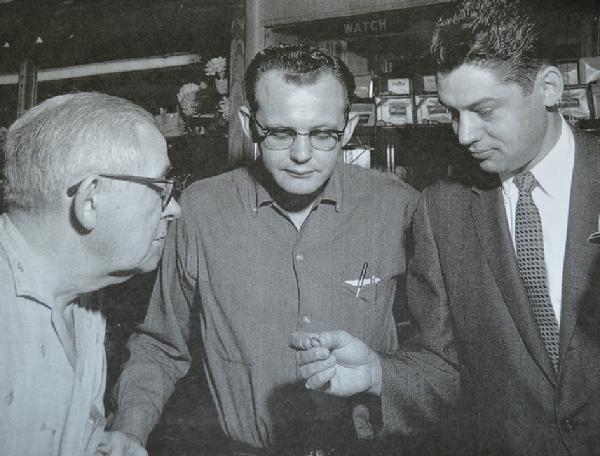 1957: Lawrence Coats (left) founded Livingston Jewelers, also pictured are Bobby Coats (center) and Jewelry Designer, Bob Sandler.
One On One Personal Service and Best Prices, Coats Jewelers Delivers Service That is Second to None, LIVINGSTON, November 1, 2013 - When the staff of PolkCountyToday.com met with Mack Coats, it only took a few minutes of time with him to come to know him as a man of honesty. When he talks, he's very earnest and doesn't mislead. Mack Coats and his wife, Jerry, are the owners of Coats Livingston Jewelers. Coats really does offer the best possible prices for fine jewelry. "There was a young lady who came in here with a half carat diamond solitaire wanting to sell it", Coats said, he continued "I asked her what she paid for it, she said $3,000, and that she had bought it at one of the large chains that we see on TV", he said, "I'm sorry to tell you this, but we sell that same solitaire for $1,200". Mack Coats is carrying on a tradition of bringing Livingston and Polk County premier jewelry service that his dad started back in 1945.
The History
Mack Coats' dad, Lawrence Coats, sustained a work related injury in 1920. An accident that crushed his lower left leg. Unable to do labor work, Lawrence pursued the fine trade of watch making and repair. Lawrence became a master watch maker, which naturally put him in the middle of the jewelry trade/business. Coats opened a jewelry store in Cleveland (Texas) in 1932. The store is still there today. Lawrence and a business partner named Jerome Thomason would go on to open Livingston Jewelers in 1945. Thomason would buy the entire store in 1947. Mack and his wife, Jerry, bought Livingston Jewelers back from Thomason in 1985 and renamed the store Coats Livingston Jewelers and the rest is history.
The Personal Touch
"When someone does business with us, we strive to become their friend" Coats said, "You're not a customer, you're a friend". Coats Livingston Jewelers offers the best prices because they have low overhead. During the Christmas season, lots of commercials come on the TV and radio advertising jewelry but when you deal with these large companies, you're going to pay high prices. With Coats, you don't have to drive to Houston, you're going to get that personal touch, be treated like a friend, and get the best price. In most cases, you will literally pay less than 50 percent of what you'd have to pay if you drove to a big chain store in Houston.
Coats Stands Behind Their Products With the Best Warranty in the Business
Coats Livingston Jewelry offers a full line of custom and designer jewelry. "We stand behind our products" Coats said. "If any product that you purchase from us breaks we will repair it at no charge". They have onsight watch repair (the only watch repair within 3 surrounding counties). Coats Livingston Jewelers also buys and sells gold and silver.
It's Really True
You don't have to leave Livingston to get the best possible deal on fine jewelry with the best possible warranty. Mack and Jerry Coats are honest, true blue jewelry dealers that are on your side and will work with you to get you the best deal possible on jewelry. Coats specializes in wedding rings, bracelets, necklaces, pendants, diamonds, gem stones, Seiko and Pulsar watches. Coats will pay top dollar for your gold or silver. All repairs are done on site. Stop in and visit Mack at Coats Livingston Jewelry. They're located one and a half blocks from the court house in Livingston at 509 North Washington. You can call Coats Livingston Jewelers at (936) 327-8810. Click
their ad
on our Top Headlines page.
Owner Mack Coats offers the best prices and best warranty in the jewelry business.
If you would like to comment on this story, we'd love to hear from you. Be sure to specify which story. Your name will be posted with your comment in
Letters to the Editor
.