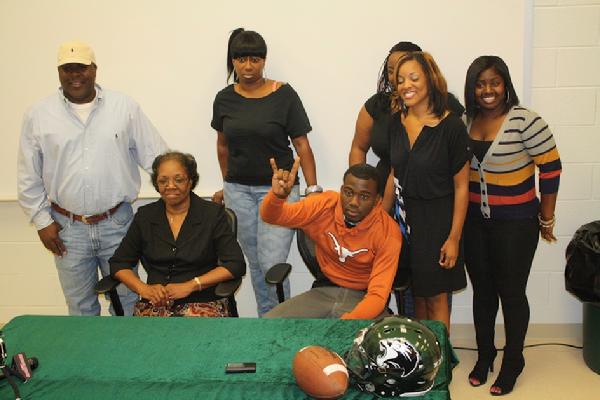 Livingston High School Senior, Chevoski Collins announced his intentions to play for the University of Texas Longhorns.
Collins Commits to UT Longhorns, LIVINGSTON, September 8, 2012 - At approximately 10 am on September 8, 2012, Livingston High School Varsity Quarterback, Chevoski Collins and Head Coach, Randy Rowe held a small local press conference to give Collins a hometown platform to announce to the world that he's committed to the University of Texas Longhorns. Collins made the announcement as he was surrounded by family with Coach Rowe standing nearby. Collins stated that he's a Texas guy, but that also the University of Texas is closer to home than the other universities that were under consideration. Collins has been sought after by some of the biggest colleges in the country for his exceptional athletic ability that he displays as a Livingston High School athlete. Some of the other universities were Olkahoma University, Florida, TCU, Texas Tech, Nebraska, UCLA, Michigan State, and Oklahoma State amongst others. Collins told PolkCountyToday.com that he will go to UT as an athlete, and that he'll play whatever position they assign him. When what his ultimate football dream is, he stated "To be the best football player that I can be". Collins' dad (Chevoski Senior) said that he was very proud of his son. When asked what his most memorable play to date is with the Lions, Collins stated, his Sophomore year with the Lions when they played against the Dayton Broncos in the playoffs. When asked if he can make it to the NFL, which team would he play for, without hesitation, Collins stated the Houston Texans.
EDITOR'S NOTE

: We did interviews with Chevoski Collins and his father and Head Coach Randy Rowe, however, our camera is having audio problems, and the interviews are hard to hear. Our sincerest apologies to our readers, Chevoski Collins, his family, and Coach Randy Rowe. - Editor
Proud Papa: Chevoski's Dad (Chevoski Senior), was overjoyed and proud of his son.
Collins with Head Coach Randy Rowe: Rowe stated that more importantly, Chevoski is a great person.
If you would like to comment on this story, we'd love to hear from you. Be sure to specify which story. Your name will be posted with your comment in
Letters to the Editor
.