ho·ly
(h


l

)
Set apart; Regarded as deserving special respect or reverence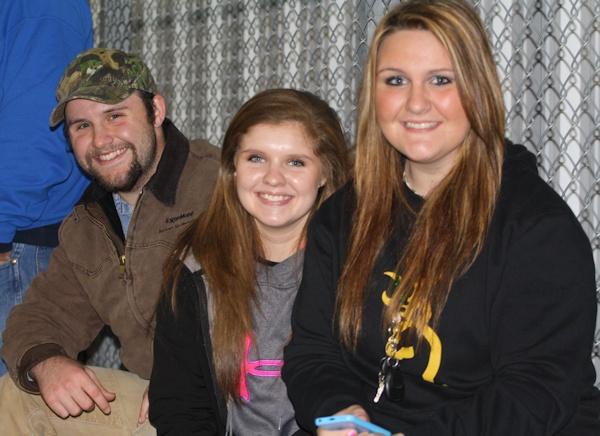 2013 Bulldog fans are happy fans.
Bulldogs Finish Regular Season Perfect, CORRIGAN, November 9, 2013 - The 2013 Corrigan-Camden Bulldogs Varsity Football Team have achieved perfection. They finished their regular season unbeaten and did so convincingly, week after week. What makes this years Bulldogs so deserving of special respect and reverence is the fashion in which they did it.
In most of the aforementioned games, the Bulldogs' opponents scores were mostly after the game was a foregone conclusion and Head Coach Seven Armstrong had pulled his starters. Friday's game was a blowout right from the start...
SCORING SUMMARY
First Quarter

: 10:22, after Owls fumble opening kickoff, dogs recover (Justin Robbins on recovery). Malyk Johnson takes pitch out from Armstrong and runs in from 11 yards out. With pat, Dogs 7, Owls 0
9:54 Keegan Mitchell takes a pitch out from Armstrong and rumbles 56 yards for a Bulldog TD. Set up by Justin Robbins interception, after pat Dogs 14, Owls 0
5:34 Johnson takes handoff from Armstrong and runs in from 15 yards out. Missed pat, Dogs 20, Owls 0
2:36 Mitchell takes handoff from Armstrong and runs 70 yards for TD. With pat, Dogs 27, Owls 0
00:22 Owls throw 48 yard TD pass and convert 2 point conversion. Dogs 27, Owls 8
Second Quarter

: 9:09 Running back, Addison Kirkland takes pitch out from Armstrong and runs in from 4 yards out, with pat. Dogs 34, Owls 8
6:16 Mitchell takes handoff from Armstrong and rumbles and bumbles 42 yards for a td. With pat, Dogs 41, Owls 8
2:09 Johnson takes handoff from Armstrong runs in from 1 yard out. Dogs 48, Owls 8
00:30 Armstrong throw 5 yard td pass to Mitchell. With pat, Dogs 55, Owls 8
10:21 Running back, Carlos "the Bull" Inguanzo takes a handoff from Armstrong and runs in from 5 yards out. Dogs 61, Owls 8
Editor's note: At this point, the game was becoming such a blowout that Head Coach Seven Armstrong pulled most of his starters. 00:22 The Dogs scored another td run by running back, Ben Lara. Dogs 68, Owls 8.
Fourth Quarter

: 8:05 Owls 70 yard TD pass. Missed pat. Dogs 68, Owls 14
2:30 Owls scored another TD missed pat. FINAL: Dogs 68, Owls 20
As I mentioned last week, that was the scoring summary. What the scoring summary doesn't detail for you is the Bulldogs on the other side of the ball. The Bulldog defense has stifled its opponents all year. It's not often that Polk County is treated to a team of such balance with a defense that's equally as impressive as its offense. Head Coach Seven Armstrong and his staff have assembled and orchestrated a phenomenal team. The 2013 Bulldogs are the best team I've witnessed in my short time (in my 6th year) of reporting high school football games in Polk County, Texas. Yes, I'm aware of 1988, and 2002. Will the 2013 Bulldogs bring a third state championship to Polk County? It's hard to say. The playoffs are the best of the best. I'm certainly no expert in these matters, and I'm not a prognosticator, but I think the Dogs have to be serious contenders to go all the way. No matter what happens from this point, after the astounding season the Dogs just played, these dogs are truly set apart. Fasten your seatbelts its about to really get exciting.
Next game: Corrigan-Camden -vs- Buffalo in Crocket this Thursday at 7:30 pm.
Willie P. Openshaw, Editor
Polk County District Attorney, Lee Hon came out and was treated to quite a show from the Dogs.
Path of Destruction: Keegan Mitchell Rumbles for a long TD.
Justin Robbins (no. 12) forced a fumble and recovered, and intercepted a pass early in the first quarter that helped set up the first 2 Bulldog TDs.
Like a broken record: Mitchell (again) for another Bulldog TD.
With a wealth of running back talent, the Bulldogs are primarily a running team, but quarterback Haden Armstrong will launch air strikes.
Armstrong kicks an extra point.
Carlos "the Bull" Inguanzo carries the rock (notice the great blocking he's getting from his teammates).
Mitchell makes a b-line for the endzone.
Armstrong carries the ball on QB keeper.
The Sparkplug: Keegan Mitchell in the open field.
Max Lowe. Lead Trumpet (Band members count, to). :)
Keegan Mitchell (left) gets a little cred from teammate Raheim Jones.
Coach Armstrong addresses his troops after the game.
If you would like to comment on this story, we'd love to hear from you. Be sure to specify which story. Your name will be posted with your comment in
Letters to the Editor
.