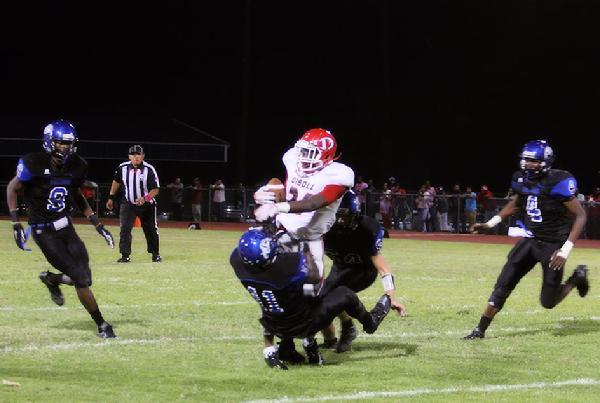 Brandin Dirden (11) and Wyatt Nash sandwich a Lumberjack ball carrier.
Dogs Let This Game Get Away, CORRIGAN, October 5, 2015 - The Corrigan-Camden Bulldogs played host to the Diboll Lumberjacks on Friday night in the dog pound and let a game get away that they should've won. But that's life in football, the Lumberjacks did what they had to do to win. It's all how ya look at it. The game just had an ugliness to it before it even started. Some of the Dogs' key players were out, suspended, not allowed to play (I'm not going to mention their names, or what they did, but it was self inflicted and not very smart at all). In spite of the pre-game buzz that spread like virus in a horror movie and was the talk of the town (in a very bad way), the Dogs still showed up to play and looked decent against a larger school.
SCORING SUMMARY
7:57 Lakendrick Moore 3 yd td on a QB keeper, dogs missed 2 pt cnv Dogs 6, Jacks 0
7:38 Jacks 55 yd td pass w pat Jacks 7, Dogs 6
6:06 Jacks 30 yd td pass w pat Jacks 14, Dogs 6
1:08 Jaylon Williams 9 yd td run, Brandin Dirden catches 2 pt. cnv Game tied at 14
11:26 Jacks 30 yd td pass w pat Jacks 21, Dogs 14
10:44 Marcus Hood 37 yd td run, Dogs missed 2 pt cnv Jacks 21, Dogs 20
5:25 Moore 10 yd td run on qb keeper, Moore runs in 2 pt cnv Dogs 28, Jacks 21
2:10 Jacks 15 yd td pass w pat Game tied at 28
6:53 Jacks run in 2 yd td w pat Jacks 35, Dogs 28
1:50 Moore 2 yd td run on qb keeper, missed 2 pt cnv Jacks 35, Dogs 34
0:58 Jacks 52 yd td run w pat Jacks 42, Dogs 34
0:32 Williams 3 yd td run missed 2 pt cnv Jacks 42, Dogs 40
8:25 Jacks 3 yd td run on qb keeper missed pat.
FINAL: JACKS 48, DOGS 40
Blown opportunities... Towards the end of the first half, the Dogs had a 7 point lead. The Jacks were driving and the Dogs intercepted. The opportunity in this situation was that this offered the Dogs to take a possible 2 touchdown lead into the half. Then the Dogs receieved the ball to start the 3rd quarter. Perfect opportunity. On the first offensive play following the interception, the Dogs fumbled and lost the ball. Blown opportunity. This ultimately lead to a Diboll touchdown that sent the teams into halftime tied at 28 (rather than the Dogs having a 2 td lead). That fumble and its consequences was symbolic of how the night went for the Dogs. There were other opportunities that were blown. In the second half, there were times when the game was close, the Dog defense would hold Jacks and the Bulldog offense just couldn't seem to capitalize on the opportunity. To make matters worse, the Bulldog secondary seemed soft and got repeatedly burned by the Diboll passing game. I firmly believe that had the Dogs had all their players, they would've won this game, no problem. The sad thing is, in spite of that, the Bulldogs still should've beat Diboll. To the players who messed up. You messed your team over. If you have dreams of going far in football, you better get your mind right. Teams at the collegiate level aren't going to tolerate misbehavior and stupidness. They've already noted your misdeeds (not good). Enjoy the highlight reel.
Next game district starts. The Dogs will be playing Crockett on the road.
Willie P. Openshaw, Editor
LaKendrick Moore breaks toward the sidline for a long gainer.
Jaylon Williams runs for the Dogs.
Linebacker, Wyatt Nash closes in on the Diboll QB.
Dog defenders in the Diboll backfield.
Jaylon Williams gets some blocking from his teammates.
Fre'Darion Johnson pulls down a Lumberjack ball carrier.
Marcus Hood (10) runs for a Bulldog TD.
Fre'Darion Johnson picks up yardage.
LaKendrick Moore (6) crosses the goal line for a Bulldog TD.
Linebacker Thomas Casper (60) drags down a ball carrier.
Quarterback Ty Love gets ready to take a snap.
Fre'Darion Johnson in the Lumberjack backfield.
If you would like to comment on this story, we'd love to hear from you. Email us at pctletters@gmail.com. Be sure to include the story subject in the subject line of your email, also list your name and town in your letter. Your letter will be posted in

Letters to the Editor

.