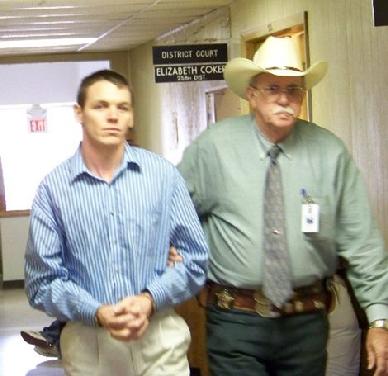 Brandon Gene Rushing is led out of Polk County Courthouse at the conclusion of his trial on August 22, 2008.
Livingston Man Gets Life in Prison for Child Molestation, LIVINGSTON, August 22, 2008 - A Livingston man got life in prison for child molestation on Friday afternoon (August 22, 2008). Brandon G. Rushing, 27, of Livingston was convicted of molesting his own 9 year old daughter. The child's mother fought back tears on the witness stand as she recounted incident's in her daughter's life relating to the molestation. Rushing seemed almost emotionless as the verdict, handed down by a Polk County Jury, was read by 258th District Court Judge, Elizabeth Coker. During the emotionally charged trial, family and friends of Rushing sat nearby in the courtroom throughout the trial. Rushing is the second child sex offender this week successfully prosecuted by the Polk County Criminal District Attorney's Office. Earlier in the week, David Kent Ortiz received 18 years for indecency with a child. The following is a press release from the Polk County Criminal District Attorney's Office:


Separate Polk County juries issued stiff sentences on child molesters in trials this week in Judge Elizabeth Coker's 258th District Court. One jury issued an 18 year sentence (out of a possible 20 years) to a defendant found guilty of Indecency with a Child in a case prosecuted by District Attorney Lee Hon. The other jury returned a life sentence to a man who has molested his own daughter. Assistant District Attorneys Joe Martin and Kaycee Jones represented the State in that trial.
In the first case, David Ortiz, age 42, of Killeen was convicted of indecent contact with a seven year old child who was the daughter of his girlfriend. After the jury returned a guilty verdict, Ortiz admitted the offense on the witness stand and testified that he had done so because he was interested in "little girls." He had no explanation for why he had pled not guilty and forced the child to relive the experience on the witness stand.
In the second trial, Brandon Rushing, age 27, of Livingston was found guilty of four counts of molestation: three indecent acts and on sexual assault committed against his nine year old daughter. Jurors heard details of the Polk County assaults and others that occurred when the defendant lived in Ft. Worth. Additionally, another neighborhood child testified concerning an incident of indecent exposure by Rushing. The jury was also made aware of Rushing's conviction for sexual assault and indecency with a child while he was in the military in 2000.
The previous conviction required the jury to assess a life sentence for the sexual assault. The jury also handed down two sentences of 20 years and one sentence of ten years on the indecency charges. These prison terms will be served concurrently with the life sentence.
Assistant District Attorney Joe Martin expressed gratitude for the juries' hard work. Martin stated that the District Attorney's Office has a heavy caseload of child sexual offenses and promised that prosecutors would use every tool available to continue to obtain appropriate sentences on these offenders. Martin emphasized that while these cases were tried under the child sex offense statutes in effect in 2007, even tougher laws are in effect beginning with offenses committed after September 1, 2007 and the District Attorney's Office will aggressively seek the application of these new provisions to prevent the victimization of children in Polk County.
--- end of press release ---
If you would like to comment on this story, we'd love to hear from you. Your name will be listed with your comment when it's posted in the letters to the editor.