First man on the scene: Officer Terry Valka with Onalaska Police Department

Dump Truck Rear Ends Car, ONALASKA, December 7, 2010 - At approximately 11:25 am on December 7, 2010, Tammy Hanson, 45, of Onalaska, was north-bound on FM-356 in a red 1988 Honda Del Sol when she attempted a left turn into her driveway that's located across the street from Paradise Acres Subdivision. During her left turn, Hanson was slammed from behind by a dump truck that was loaded and driven by Bobby Gene Goynes, 29, of Huntsville. Goynes was attempting to pass Hanson when the accident occurred. The collision knocked Hanson's vehicle into a ditch directly in front of her house and yard. Goynes slammed on his brakes and skidded over 200 feet before coming to rest in the south bound lane of 356. Americare Ambulance Service was dispatched to the scene along with the Onalaska Police Department, Deputy Raymond Lofton with the Sheriff's Office, the Onalaska Volunteer Fire Department and DPS Trooper David Flowers. EMS Personnel treated Hanson at the scene and transported her to Livingston Memorial Hospital by Ambulance. The south-bound lane of traffic was blocked during investigation and cleanup. Goynes was issued a citation for failure to control speed. Both parties had insurance. A rollback wrecker from George White & Sons Wrecker Service recovered Hanson's vehicle and it will be stored in Onalaska. A heavy-duty wrecker from Riley Wrecker Service recovered the dump truck and it will be stored in Corrigan. The scene was cleared by 2 pm.

Special thank you: Stash Anderson, James Riley, and Ken with Ken's Towing

Tammy Hanson's 1988 Honda got knocked into her own front yard.
Dump truck driver Bobby Goynes (of Huntsville) swirved to avoid the collision but still clipped the back of Hanson's car.
Tammy Hanson of Onalaska was loaded into an Ambulance and taken to Livingston Memorial Hospital with undisclosed injuries.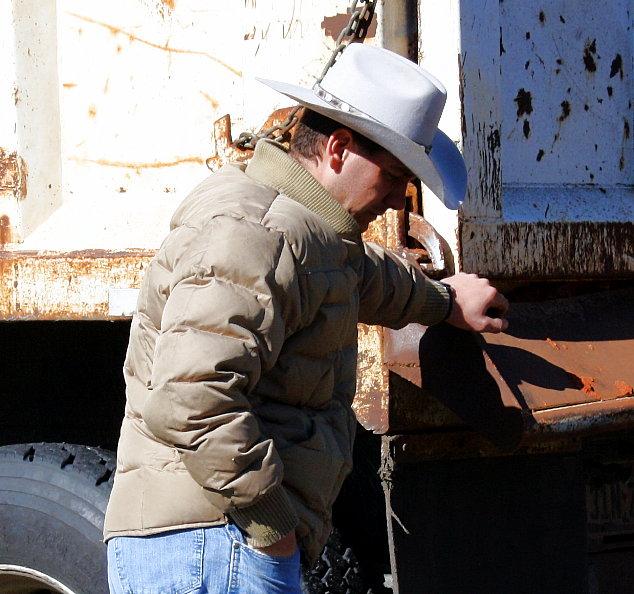 Dump truck driver Bobby Gene Goynes was cited for failure to control speed.
Trooper David Flowers with the Texas Highway Patrol is the investigating Officer.
Onalaska Police Chief Ron Gilbert helps to direct traffic.
Hanson's vehicle was recovered by George White & Sons wrecker service.
James Riley is the only wrecker service in Polk County capable of recovering a dump truck.
Police Chief Ron Gilbert is not afraid to grab a broom and help clean up the mess.
If you would like to comment on this story, we'd love to hear from you. Your name will be listed with your comment when it's posted in the Letters to the editor.