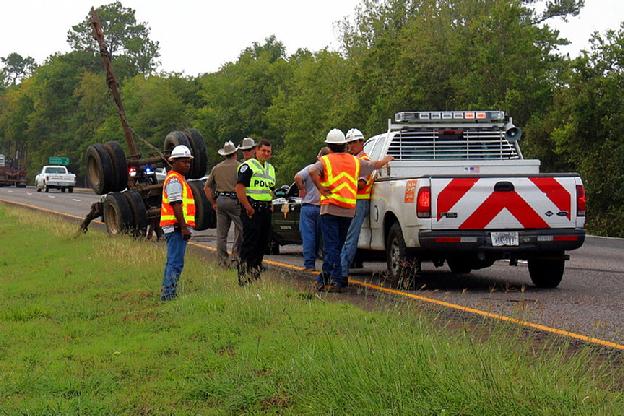 TxDOT represenatives, Livingston Police and Troopers at the scene.

Logging Rig Breaks in Half on US-59, LIVINGSTON, October 12, 2011 - At approximately 10:00 am on October 12, 2011, a blue 1984 Mack Truck (C-300) driven by Jimmy Lynn Wilson, 63, of Cleveland, was south bound on US-59 just south of Livingston. Wilson was driving rig commonly used in logging and had a trailer attached called a pole trailer. The pole trailer is actually 2 units held together by a pin. The pin broke as Wilson was driving down the highway. The back half of the pole trailer came detached from the front half. The back half rolled and turned upright where it came to rest. Wilson (pulling the other half) pulled over on the shoulder a short distance north of the back half of the pole trailer. Officers from the Livingston Police Department were dispatched to the scene along with Troopers David Flowers and Corporal Sam Lattner (both with the Texas Highway Patrol). Fortunately, nobody was injured in the incident and no citations were issued. Wilson's trailer was recovered by East Tex Towing out of Shepherd.

Special thank you: Brandy Vickery

Trooper David Flowers (pictured) is the Investigating Officer.
Driver Jimmy Wilson (walking) walks back to the front half of his truck.
(L - R) Trooper David Flowers, Sergeant Ronnie Bogany, Corporal Sam Lattner.
If you would like to comment on this story, we'd love to hear from you. Your name will be listed with your comment when it's posted in the Letters to the editor.