20 year old Desiree Allen's vehicle left the road and struck this driveway embankment causing her vehicle to go airborne and roll.
Driver Rolls Vehicle, Flown to Houston, BLANCHARD, September 4, 2014 - At approximately 9:45 pm on September 3, 2014, a green 2007 Cadillac CTS driven by 20 year old Desiree Allen of Livingston, was east-bound on Wobbly Bobbly road (off FM-2457), when her vehicle left the unpaved road to the right, rolled through the weeds, then struck an embankment causing her vehicle to go airborne. When her vehicle landed, it rolled and came to rest upside down. Americare Ambulance Service was dispatched to the scene along with the Livingston Volunteer Fire Department Heavy Rescue Unit and Deputy Adam Norris with the Polk County Sheriff's Office and Trooper Barett Duren with the Texas Highway Patrol. Desiree Allen was trapped as firemen used extraction equipment to remove her from her vehicle. Allen was loaded onto an ambulance and transported to Livingston Memorial Hospital with undisclosed injuries. A medical helicopter flew her from Livingston Memorial Hospital to Houston. Traffic on Wobbly Bobbly road was partially blocked during investigation and cleanup. No citations have been issued at this time as the accident remains under investigation by the Texas Highway Patrol. A rollback wrecker from Fawbush Wrecker Service recovered Allen's vehicle and it will be stored in Goodrich.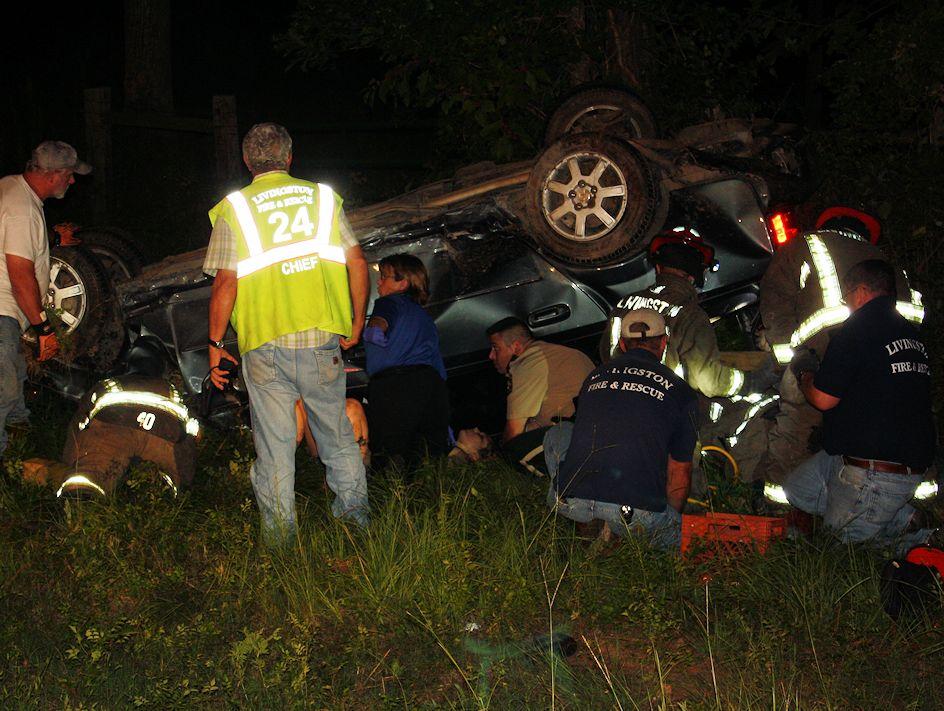 Emergency personnel work to free Allen from her vehicle and stabelize her.
Trooper Barett Duren (center) is the accident investigator (also pictured is Deputy Adam Norris at right).
Allen was loaded onto an ambulance and taken to Livingston Memorial Hospital, then flown to Houston.
Allen's vehicle was recovered by Fawbush Wrecker Service.
If you would like to comment on this story, we'd love to hear from you. Email us at pctletters@gmail.com. Be sure to include the story subject in the subject line of your email, also list your name and town in your letter. Your letter will be posted in

Letters to the Editor

.