The driver of a 2006 Hyundai Sonata was north-bound on 59 and left the pavement to the right, jumped a ditch, and slammed sideways into a tree.
Driver Totals Vehicle, Flees Scene, Bag of Meth Found, GOODRICH, August 20, 2017 - At approximately 9:20 pm on August 20, 2017, passers by were north-bound on US-59 near Stallion Station Road when they spotted a wrecked vehicle in the woods on the right side of the road. The motorists contacted the Polk County Sheriff's Office and Trooper Sean Chandler with the Texas Highway Patrol was dispatched to the scene. Additionally, Americare Ambulance Service was dispatched. The vehicle (blue 2006 Hyundai Sonata) was north-bound, left the pavement to the right, jumped a ditch, and slammed sideways into a tree. The driver of the vehicle apparently fled the scene. Trooper Chandler and other emergency personnel searched the vicinity and did not locate the driver. The extensive damage to the vehicle, as well as blood on the interior suggests that the driver is probably injured. During investigation, Trooper Chandler found a bag of methamphetamine in the wreckage. A rollback wrecker from Ken's Towing recovered the vehicle and it will be stored at Harrison Body Shop in Livingston. This accident remains under investigation by the Texas Highway Patrol.
Trooper Sean Chandler climbs over the wrecked vehicle to get to the other side (the vegetation was so thick that it was hard to get around). Two motorists who spotted the wrecked vehicle and phoned it in look on.
The vehicle impacted a tree on the passenger's side of the vehicle.
Trooper Chandler pulled a small bag of methamphetamine from the wreckage of the vehicle.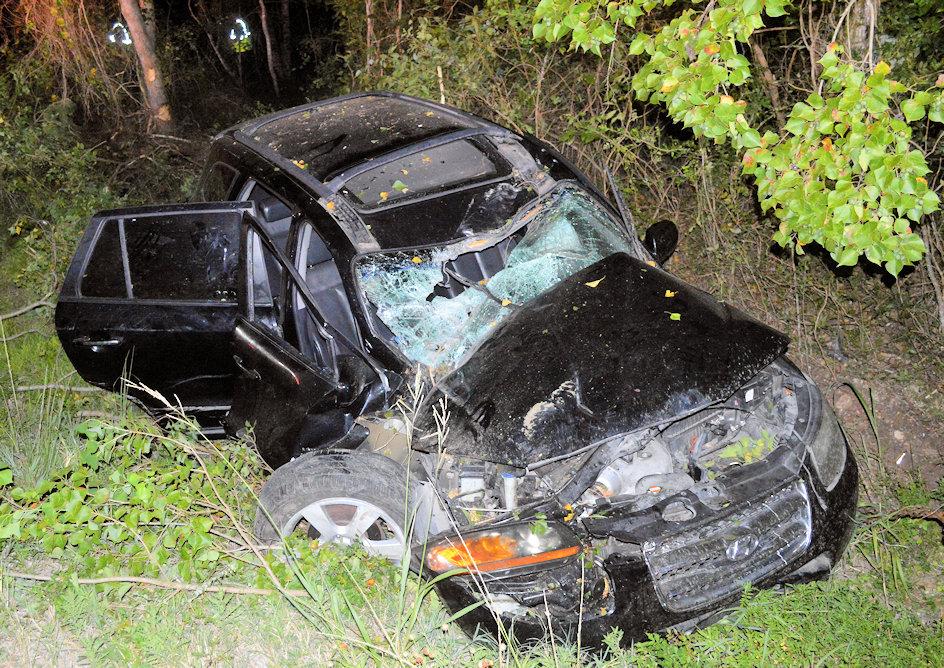 The vehicle was recovered by Ken's Towing.
If you would like to comment on this story, we'd love to hear from you. Email us at pctletters@gmail.com. Be sure to include the story subject in the subject line of your email, also list your name and town in your letter. Your letter will be posted in

Letters to the Editor

.