Unbeknownst to us, there was a puppy inside this rolled Dodge pickup...
Puppy Survives 2 Rollovers, GOODRICH, August 20, 2015 - At approximately 11:30 am on August 20, 2015, a tan Dodge Ram 1500 was west-bound on FM-1988 West. The driver entered a curve too fast and left the pavement to the right. Her vehicle went into a drainage ditch and rolled, coming to rest on the passenger's side. Americare Ambulance Service was dispatched to the scene along with Deputy Rey Davalos with the Polk County Sheriff's Office and Troopers Kevin Burman and Corporal Ramey Bass (both with the Texas Highway Patrol). Fortunately, the driver wasn't injured. A rollback wrecker from Ken's Towing was summoned to recover the vehicle. When the pickup was turned upright, a loud, high pitched squeal came from the interior of the pickup. There was a female puppy inside the pickup. The puppy was not injured, but only frightened (She survived the initial rollover, then the rollover when the vehicle was turned upright). The puppy was returned to her owner who was on the scene. The pickup was hauled to
Harrison Body Shop in Livingston.
Special thank you: Ken with
Ken's Towing
When the pickup was turned upright, a high pitched squeal came from the truck. This puppy ended up on the dashboard and was frightened, but physically okay.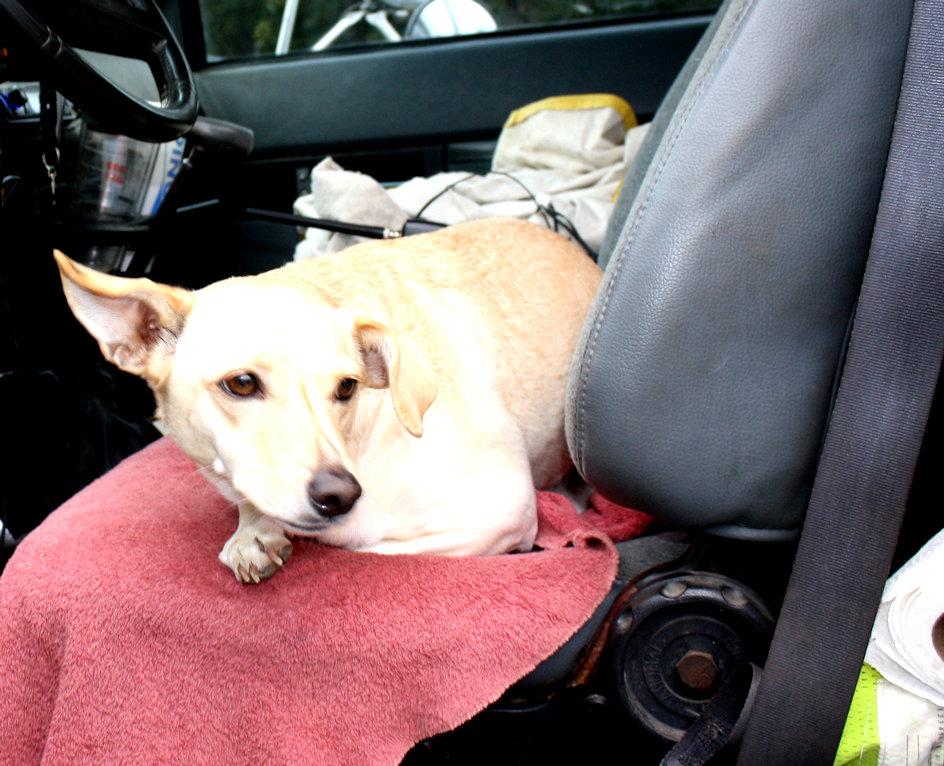 Houdini assisted with towing duties.
Heidi was on duty for PolkCountyToday.com.
If you would like to comment on this story, we'd love to hear from you. Email us at pctletters@gmail.com. Be sure to include the story subject in the subject line of your email, also list your name and town in your letter. Your letter will be posted in

Letters to the Editor

.