Corrigan Volunteer Fire Dept. was first on the scene.

Vehicle Rolls Multiple Times, Alcohol Suspected, 2 Life Flighted, MOSCOW, July 29, 2009 - According to the Texas Department of Public Safety, at approximately 9:30 pm on July 29, 2009, a green 1998 Chevy Blazer driven by Melanie Kay Steuart, 38, of Corrigan was south-bound on US-59 in Moscow when her vehicle left the road to the left, into the grassy median and rolled multiple times. Steuart's vehicle came to rest upright facing north on the north-bound side of 59 on the shoulder. Corrigan Volunteer Fire Department was dispatched to the scene along with Americare Ambulance Service, Corrigan Police Department and DPS Trooper Darwon Evans. Steuart and her passenger, Jennifer Faber, 35, also of Corrigan, were reportedly trapped in their vehicle. Steuart and Faber were carefully removed from their vehicle and treated at the scene by EMS personnel. Both were driven to Livingston Memorial Hospital and Life Flighted from there to Hermann Hospital in Houston. The left lane of traffic was blocked on the north-bound side of 59 as the accident was being investigated and cleared. According to Trooper Evans, alcohol is suspected and there was the smell of alcohol in the vehicle. Steuart possibly faces citations for failure to maintain a single marked lane, and possibly driving while intoxicated. Steuart did have insurance. A rollback wrecker from Clifton Chevrolet in Corrigan recovered the totaled Chevy. The scene was cleared by 10:35 pm.

This 1998 Chevy Blazer rolled multiple times and came to rest upright.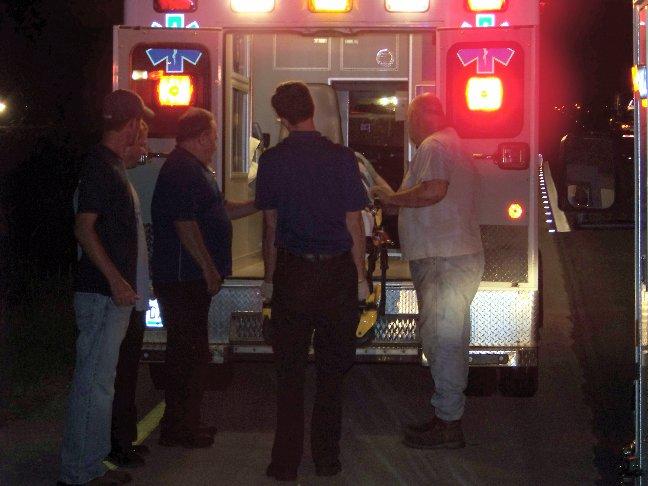 Passenger Jennifer Faber of Corrigan being loaded onto an ambulance.
DPS Trooper Darwon Evans investigates.
Deputy Vance Berry with the Polk County Sheriff's Office.
Driver Melanie Steuart of Corrigan is loaded onto Life Flight. Both women were loaded onto the same chopper and flown to Hermann Hospital in Houston.
If you would like to comment on this story, we'd love to hear from you. Your name will be listed with your comment when it's posted in the Letters to the editor.