Javier Patino's 2000 Pontiac Trans Am sits on the pavement of US-190 West after another vehicle pulled in front of him (Trooper Ramey Bass also pictured).
Failure to Yield, 2 Hospitalized by Corner Shell, LIVINGSTON, July 28, 2012 - At approximately 12:15 pm on July 28, 2012, Javier Patino, 54, of Livingston, was east-bound on US-190 West. As Patino was approaching the intersection of 190 and FM-2457, a silver 2000 Oldsmobile Alero driven by Savannah Jackson, 34, of Livingston, pulled directly in front of Patino. Patino's yellow 2000 Pontiac Trans Am broadsided Jackson's vehicle. Jackson's vehicle was knocked into the grassy median, Patino's vehicle came to rest on the pavement of 190. Americare Ambulance Service was dispatched to the scene along with Deputies from the Polk County Sheriff's Office and Trooper Ramey Bass with the Texas Highway Patrol. Both Jackson and her passenger sustained undisclosed injuries and were transported by ambulance to Livingston Memorial Hospital. Patino was physically okay. According to Trooper Bass, Savannah Jackson was cited for failure to yield right-of-way from an open intersection. Patino's vehicle was recovered by a rollback wrecker with Fawbush Body Shop and will be stored in Goodrich while Jackson's vehicle was recovered by a rollback wrecker from Ken's Towing and will be stored at Harrison Body Shop in Livingston. The scene was cleared by 1 pm.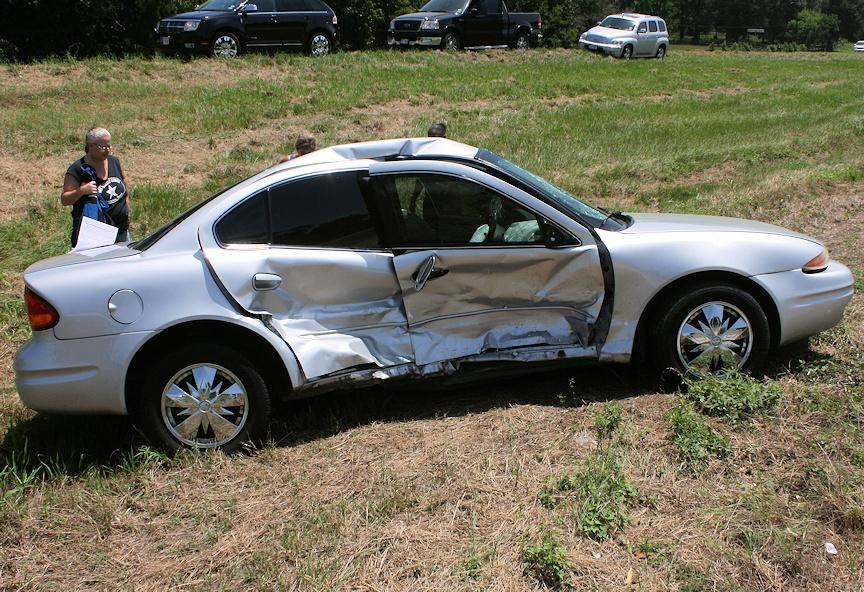 Savannah Jackson's 2000 Oldsmobile Alero came to rest in the median of 190 West. Jackson was broadsided when she failed to yield to oncoming east-bound traffic.
Trooper Ramey Bass is the investigating officer.
Both Savannah Jackson and her passenger were transported to Livingston Memorial Hospital with undisclosed injuries.
Javier Patino's vehicle was recovered by Fawbush Body Shop.
Savannah Jackson's vehicle was recovered by Ken's Towing (Houdini opted to stay in the air conditioning while Ken did all the work).
Mixi
If you would like to comment on this story, we'd love to hear from you. Please be sure to specify which story you're talking about. Your comment will be posted in Letters to the Editor.