Troopers and Deputys at the scene.

4 Arrested in Single Vehicle Accident on 3277, LIVINGSTON, July 6, 2009 - Shortly after 6 pm on July 6, 2009 a red 1997 Chevy Truck driven by Justin Smith, 25, of Livingston, was west-bound on FM-3277 near Memorial Point. Smith's truck left the road to the right and Smith over-corrected when he pulled back onto the road. Smith's vehicle began to slide sideways and left the road to the left, struck a culvert, rolled two times and came to rest upright in the grass. DPS Troopers Ramey Bass, Nita Bowen, and Brent Murray were dispatched to the scene along with several Polk County Sheriff's Deputies and the Scenic Loop Volunteer Fire Department. According to witnesses, Smith fled the scene with his 17 year old passenger, Joshua Wilson of Livingston. Both returned minutes later with law enforcement present. When questioned, Wilson told DPS that he was driving. However Smith had cut his heel, and the cut matched the unpadded brake pedal on his truck. Wilson was placed under arrest for false report. Smith was arrested for driving while intoxicated. In the meantime, two females arrived at the scene, Loraine Smith, 36, Justin Smith's wife, and Donnalin Ringo, 29, of Livingston. Both women became disruptive and were yelling at emergency personnel. Both were arrested, taken to Polk County Jail and booked in for disorderly conduct. The east-bound lane of 3277 was blocked as the accident was being investigated and cleared. Other than Wilson's cut foot, nobody was injured in the incident. Wilson possibly faces an additional citation for no insurance. A rollback wrecker from Harwood Wrecker Service recovered Wilson's vehicle and it will be stored at Harwood in Livingston. The scene was cleared and traffic fully flowing by 7:10 pm.

Justin Smith's '97 Chevy rolled 2 times after striking a culvert.
Joshua Wilson was arrested for false report.
Justin Smith was arrested for driving while intoxicated.
Loraine Smith showed up at the scene hopping mad....
...and was placed under arrest for disorderly conduct.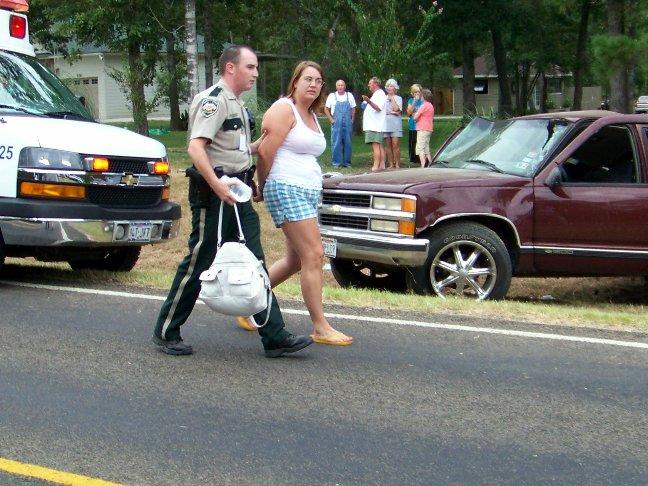 Donalin Ringo was also arrested for disorderly conduct.
The truck's contents were strewned in disarray all over the grass.
Scenic Loop Volunteer Fire Department.
Jim Harwood; Top Notch Vehicle Recovery Specialist.
If you would like to comment on this story, we'd love to hear from you. Your name will be listed with your comment when it's posted in the Letters to the editor.