32 year old Daniel Pringle, of Livingston, rolled this 2000 Dodge Durango off FM-1988 just east of FM-3126.
Driver Rolls Vehicle, Arrested for DWI, MT ROSE, June 24, 2015 - At approximately 7:40 pm on June 24, 2015, a silver 2000 Dodge Durango, driven by Daniel Pringle, 32, of Livingston, was east-bound on FM-1988 just east of FM-3126. Pringle left the pavement to the right causing his vehicle to roll. Pringle's vehicle came to rest upright at the woodline. Pringle then fled the scene. Deputy Billy Duke with the Polk County Sheriff's Office was nearby and quickly located Pringle and brought him back to the scene. Deputy Duke was joined by Deputy Cody Hardy, also with the Polk County Sheriff's Office. Trooper Donny Akers with the Texas Highway Patrol was summoned to investigate. Trooper Akers conducted a field sobriety test and placed Pringle under arrest for driving while intoxicated. The DWI charge was enhanced due to an open container of beer in Pringle's vehicle. Additionally, Pringle was charged with driving with no driver's license and no insurance. A rollback wrecker from Ken's Towing recovered Pringle's vehicle and it will be stored at Harrison Body Shop in Livingston.
Trooper Donny Akers (center) speaks with Daniel Pringle of Livingston.
Trooper Akers conducted a field sobriety test on Pringle as Deputies Cody Hardy (left) and Billy Duke stand by.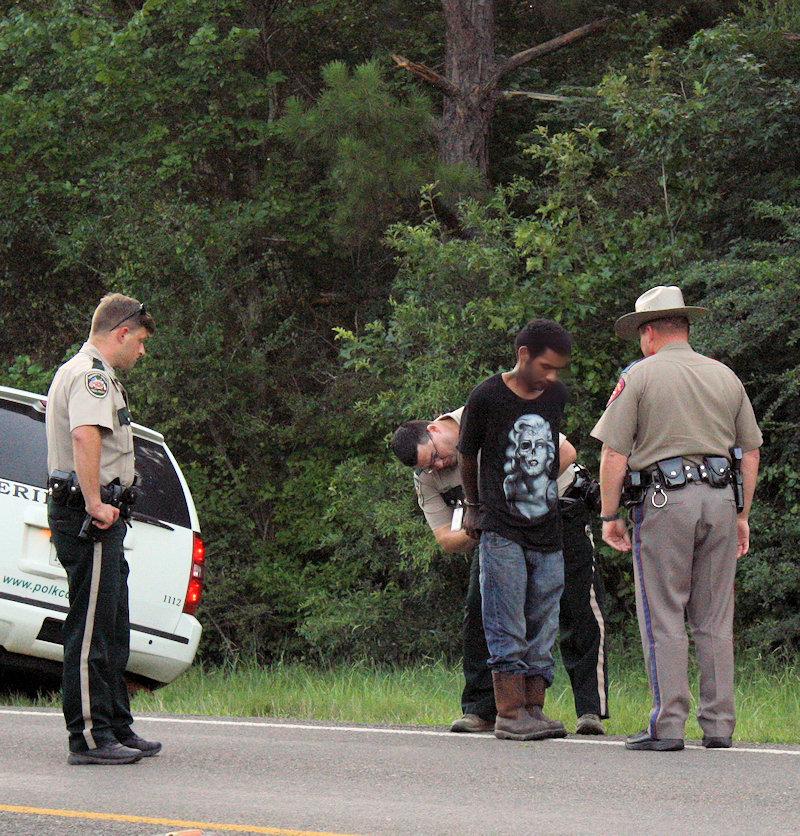 Pringle was placed under arrest for DWI, open container, no driver's license, and no insurance.
Pringle's vehicle was recovered by Ken's Towing.
Houdini assisted with towing duties.
If you would like to comment on this story, we'd love to hear from you. Email us at pctletters@gmail.com. Be sure to include the story subject in the subject line of your email, also list your name and town in your letter. Your letter will be posted in

Letters to the Editor

.