Emergency personnel flock to Fred Hughes' turned over truck.

Driver Rolls Truck, DWI Suspected, LIVINGSTON, June 22, 2010 - At approximately 6:22 pm on June 22, 2010, a red 2004 Chevy Colorado driven by Fred Hughes, 46, of Livingston, was west-bound on FM-1988 West near Tempe Creek when his vehicle left the road to the right, drove through the weeds, took out a large section of barbed wire fence, struck a tree and rolled. Hughes' vehicle came to rest on its driver's side facing east. Americare Ambulance Service was dispatched to the scene along with several Deputies from the Polk County Sheriff's Office, the Livingston Volunteer Fire Department and DPS Troopers Corporal Sam Lattner and Kevin Burman. Hughes was trapped in his vehicle as firemen cut the windshield from the truck and then were able extract him from his vehicle. Hughes was loaded onto an Ambulance and taken to Livingston Memorial Hospital with undisclosed injuries. One lane of traffic on 1988 was blocked during investigation and cleanup. Hughes will received a citation for unsafe speed and pending toxicology reports could be facing a citation for driving while intoxicated. A rollback wrecker from Harwood Wrecker Service recovered Hughes' vehicle and it will be stored in Livingston. The scene was cleared by 7:24 pm.

WARNING! One image below shows blood.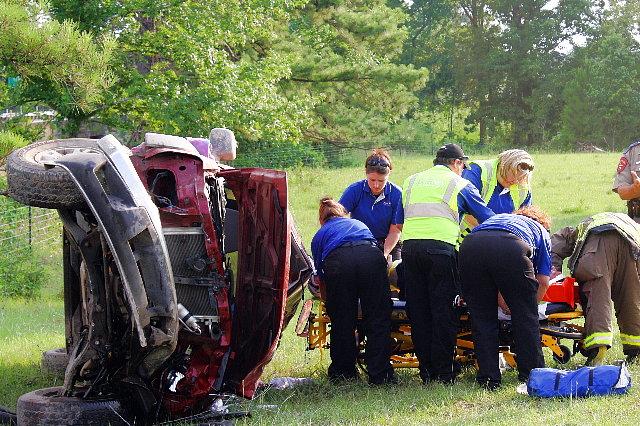 Fred Hughes of Livingston is loaded onto a stretcher.
Both of Fred Hughes' airbags deployed.
Hughes' vehicle took out a large section of barbed wire fence.
Vehicle Recovery Specialist Jim Harwood recovered Hughes' vehicle.
If you would like to comment on this story, we'd love to hear from you. Your name will be listed with your comment when it's posted in the Letters to the editor.