Wilma McQueen's 2009 Pontiac G5 sits in the woodline on FM-1988 East (Deputy Billy Duke pictured).

Driver Flown to Houston From Accident on FM-1988, LIVINGSTON, June 8, 2011 - At approximately 7 pm on June 8, 2011, a black 2009 Pontiac G5 driven by Wilma J. McQueen, 83, of Livingston, was west bound on FM-1988 East about 1.5 miles from US-146. McQueen's vehicle left the road to the right and went into the woodline. Americare Ambulance Service was dispatched to the scene along with Deputy Billy Duke with the Sheriff's Office, the Livingston Volunteer Fire Department Heavy Rescue Unit and Trooper Ramey Bass with the Texas Highway Patrol. McQueen was trapped inside her vehicle as the doors were bent and wouldn't open. Deputy Duke tried to pull the door open with his hands but the door wouldn't budge. Volunteer firemen arrived and used the jaws-of-life to pry the door open to free McQueen. McQueen was loaded onto an ambulance and treated at the scene. A PHi Air Medical Helicopter was summoned and flew McQueen to Hermann Hospital in Houston. Traffic was partially blocked during investigation and cleanup. A rollback wrecker from Fawbush Wrecker Service recovered McQueen's vehicle and it will be stored in Goodrich. No citations were issued. The accident remains under investigation. The scene was cleared by 8:26 pm.

Special thank you: Ken from Ken's Towing and Brian Cox

Volunteer firemen from Livingston used chainsaws to cut their way to the vehicle.
Firemen used the jaws-of-life to pry the doors open.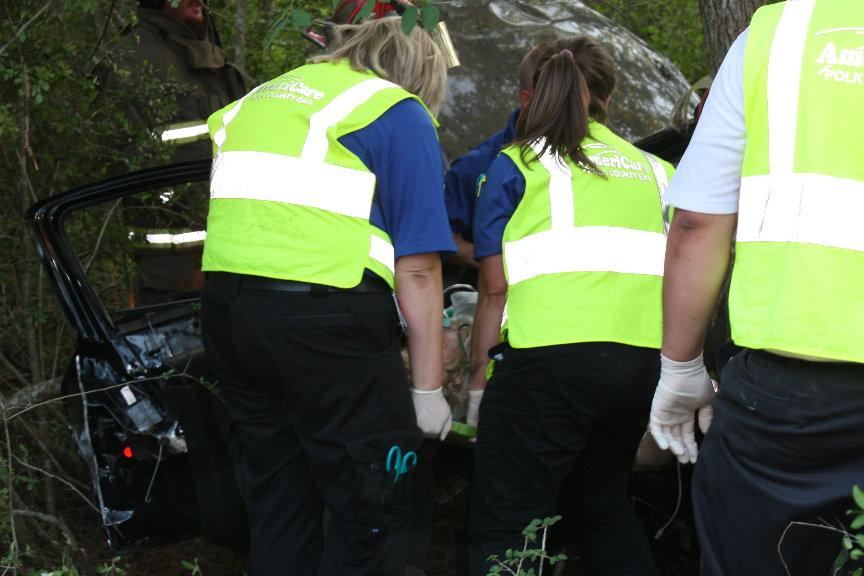 Personnel from Americare Ambulance Service carefully remove McQueen from her vehicle.
Trooper Ramey Bass is the investigating Officer.
Wilma McQueen is wheeled to a waiting PHi Air Medical Helicopter.
PHi Air Medical lifts off for Hermann Hospital in Houston.
If you would like to comment on this story, we'd love to hear from you. Your name will be listed with your comment when it's posted in the Letters to the editor.