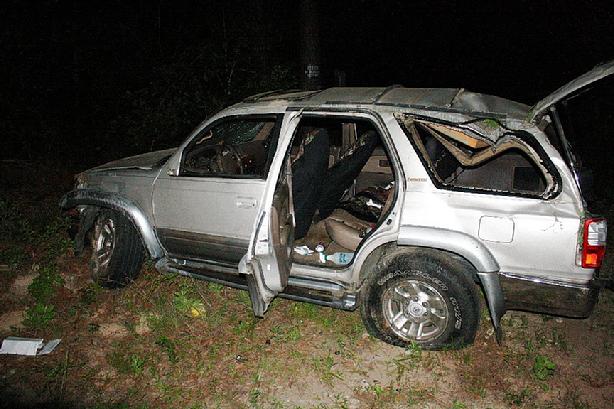 Kenny Nunley's 1998 Toyota 4Runner came to rest upright after rolling multiple times.

Major Accident on FM-1988 East, GOODRICH, June 1, 2011 - Shortly before midnight on May 31, 2011, a tan 1998 Toyota 4 Runner allegedly driven by Kenny Dean Nunley, 40, of Splendora, was west-bound of FM-1988 East near Peebles Cemetery. Nunley's vehicle left the road to the right. Nunley over corrected to the left as he swerved back onto the pavement, then off the pavement to his left rolling the vehicle several times. Nunley's vehicle came to rest upright facing east. During the crash, at some point, Nunley was ejected and landed in the nearby woodline while his passenger (younger brother Billy Lee Nunley, 30) was partially ejected and hanging out the back of the vehicle. Americare Ambulance Service was dispatched to the scene along with Deputies from the Polk County Sheriff's Office and DPS Troopers David Morris and Sergeant Nita Bowen. Initially, first responders found only Billy Nunley, but then found his older brother in the woods where he landed during the ejection. Personnel from Americare and Volunteer Firemen carefully placed Kenny Nunley onto a stretcher and loaded him onto an ambulance. Billy Nunley was also loaded onto an ambulance and taken to Livingston Memorial Hospital with incapacitating injuries. Kenny Nunley was loaded onto a Life Flight Helicopter and flown to Hermann Hospital in Houston. All traffic on 1988 was blocked during investigation and cleanup. According to Trooper Morris, no citations have yet been issued as the accident remains under investigation. Morris also pointed out Nunley's insurance was unconfirmed. A rollback wrecker from Ken's Towing recovered Nunley's vehicle and it will be stored at Harrison Body Shop in Livingston. The scene was cleared by 1:22 am.

Special thank you: Stash Anderson and Ken from Ken's Towing

WARNING: The images and video report below are scenes from a violent automobile accident. If this offends you in any way, DO NOT scroll down this page.

All traffic on FM-1988 East was blocked in the area during investigation and cleanup.
30 year old Billy Nunley was the passenger. Nunley waits on emergency personnel and was incapacitated on the side of FM-1988.
Driver Kenny Nunley, 40, of Splendora, was found minutes later in the woods where he landed after allegedly being ejected during the rollover.
Kenny Nunley sustained major head injuries and was flown to Houston by helicopter.
Nunley's younger brother, Billy, was driven to Memorial Medical Center in Livingston by ambulance.
Nunley's vehicle was recovered by Ken's Towing.
If you would like to comment on this story, we'd love to hear from you. Your name will be listed with your comment when it's posted in the Letters to the editor.