Livingston, Texas, May 28, 2014: US-146 at Tony Peebles Road
Elderly Couple Hospitalized in Accident, LIVINGSTON, May 28, 2014 - At approximately 10:40 am on May 28, 2014,a 1998 green Ford F-150 driven by Reuel Walters, 89, of Livingston, was sitting at a stop sign on Tony Peebles Road at US-146. Walters attempted to crossover the south-bound lanes of 146 to the north-bound lanes, but failed to yield to an oncoming blue 2006 Dodge pickup driven by Robert Franklin Wood, 73, of Rye. Wood's vehicle slammed into the passenger's side door of Walters' vehicle with a glancing blow. The collision sent Walter's pickup to the slow lane on the north-bound side of 146 as Wood's vehicle came to rest in the same lane a short distance south of Walters. Americare Ambulance Service was dispatched to the scene along with the Livingston Volunteer Fire Department and Troopers Zach Lenderman, Barett Duren, Chris Cain, Corporal Ramey Bass, and Sergeant Nita Bowen. Walters and his Wife were both transported to Livingston Memorial Hospital with serious injuries. Wood sustained minor injuries. The north-bound lanes of 146 were blocked during investigation and cleanup as the south-bound side was used for north and south-bound traffic. According to Trooper Lenderman, Walters was issued a citation for failure to yield right-of-way from a stop intersection. A rollback wrecker from Fawbush Body Shop recovered Woods' vehicle and it will be stored in Goodrich while Walters' vehicle was recovered by Ken's Towing and will be stored at Harrison Body Shop in Livingston.
89 year old Reuel Walters' 1996 Ford F-150 was totaled. Emergency personnel work to remove Walters and his wife from their vehicle.
73 year old Robert Woods' 2006 Dodge pickup was probably totaled. Woods escaped major injury.
Trooper Zach Lenderman is the lead investigator.
Reuel Walters was taken to Livingston Memorial Hospital by ambulance.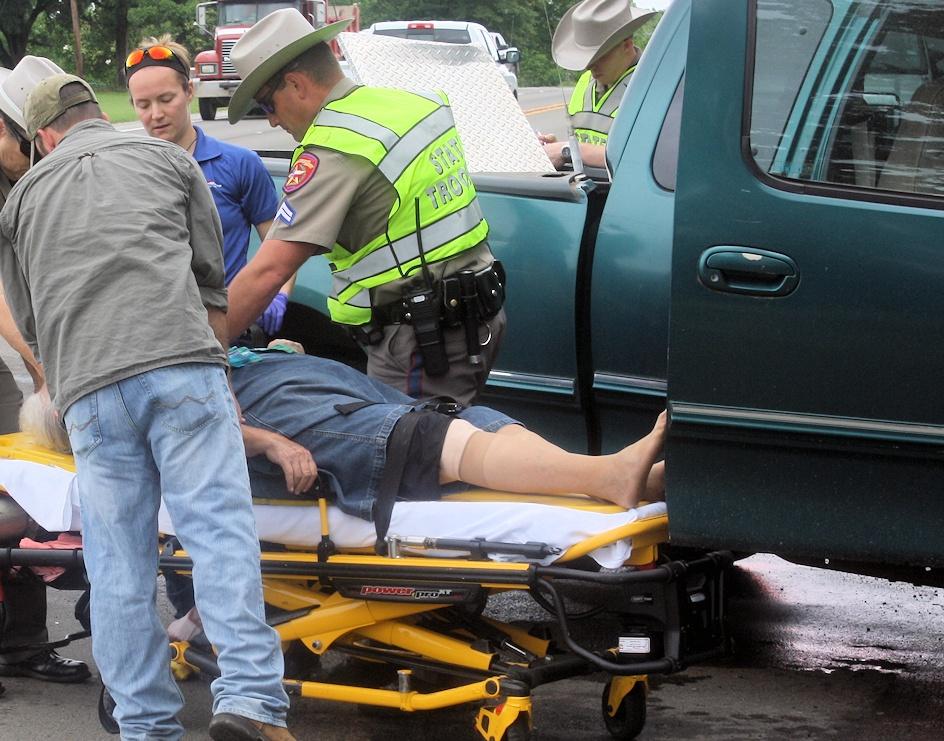 Walters' wife, Elizabeth was also transported to Livingston Memorial Hospital by ambulance.
(L - R) Trooper Zach Lenderman, Trooper Barret Duren, and Corporal Ramey Bass
Houdini assisted with towing duties.
If you would like to comment on this story, we'd love to hear from you. Email us at pctletters@gmail.com. Be sure to include the story subject in the subject line of your email, also list your name and town in your letter. Your letter will be posted in

Letters to the Editor

.