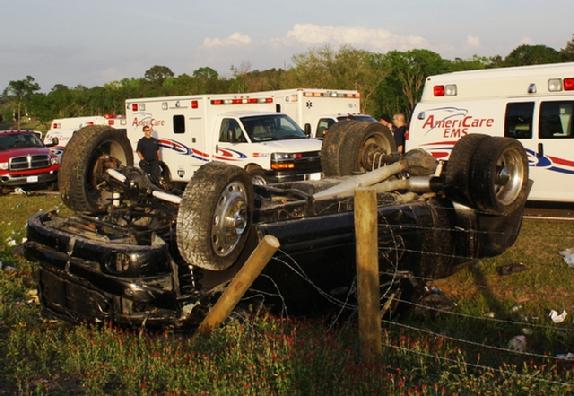 4 Amulances and 2 helicopters were called for this rollover accident.
3 Flown From Major Accident, MOSCOW, April 16, 2010 - Shortly before 6 pm on April 15, 2010, a black 2007 Dodge 1 ton duly pickup driven by Marlin Sprayberry, 21, of Camden, was south-bound on FM-350 North less than a mile from US-59 when he apparently entered a curve too fast. Sprayberry's truck left the road to the right. Sprayberry tried to cut back onto the road but his truck's front end caught the ground causing his truck to roll. According to the Texas Department of Public Safety, Sprayberry had 5 passengers in his truck and 3 were ejected. The truck took out a large section of barbed wire fence during the crash. Four ambulances were dispatched to the scene along with the Corrigan Volunteer Fire Department, Corrigan Police Department, Deputy Jamie Buie, and DPS Trooper Darwon Evans and Sergeant Nita Bowen. Sprayberry and two of his passengers (Francisco Inguan, and Garen Lee Gesford) were flown from the scene when a PHI Air Medical Helicopter and a Life Flight Helicopter both landed on 350. Sprayberry, Inguan, and Gesford were all flown to Hermann Hospital in Houston with serious injuries. All traffic on FM-350 was blocked during investigation and cleanup. Sprayberry could be facing citations pending an investigation by the Texas Department of Public Safety. Sprayberry's other passengers (Taylor Purvis, David Kovar, and Eli Crawford) sustained non-life-threatening injuries. Sprayberry did have insurance. A rollback wrecker from Ken's Towing recovered Sprayberry's vehicle and it will be stored at Harrison Body Shop in Livingston. The scene was cleared and traffic fully flowing by 8:10 pm.

Special thank you: Assignment Editor, Stash Anderson, Assistant Editor, Willie A. Openshaw, Texas Department of Public Safety
Sergeant Nita Bowen with the Texas Highway Patrol examines the wreckage.
Emergency personnel work on driver Marlin Sprayberry.
A PHI Helicopter lands in the middle of FM-350 North.
Only minutes after PHI landed, Life Flight from Hermann Hospital landed close behind PHI.
A passenger from Marlin Sprayberry's vehicle is taken to a waiting helicopter and flown to Hermann Hospital in Houston.
All traffic on FM-350 was blocked during cleanup.
When the 2007 Dodge was turned upright, severe damage was revealed.
Troopers talk to witnesses at the scene.
If you would like to comment on this story, we'd love to hear from you. Your name will be listed with your comment when it's posted in the Letters to the editor.