18 Wheeler's Cargo Catches Fire and Burns, LEGGETT, April 3, 2012 - At approximately 3:26 am on April 3, 2012, an 18 wheeler driven by James Curley Coleman, 61, of Waxahachie, was north-bound on US-59 (north of Livingston). Coleman suddenly noticed that his trailer had caught fire and pulled his rig over to the side of the road in Leggett. Coleman then retrieved his fire extinguisher and tried to put the fire out but realized he couldn't, so he called 911. Coleman then disconnected his tractor from the trailer and parked it a safe distance away from the fire. In the meantime trucks from the Livingston Volunteer Fire Department arrived with men to put out the fire. Additionally, representatives from TXDOT were dispatched and Trooper Joe Cole with the Texas Highway Patrol. Firemen had to cut holes into the trailer in order to fully get to the now fully involved cargo that Coleman was hauling. Ironically, the cargo was alumina tridydrate (a key ingredient in manufacturing flame retardant products). Both north-bound lanes of 59 were blocked during investigation and cleanup and north-bound traffic was diverted to one south-bound lane. A crew from Riley Wrecker Service out of Corrigan was dispatched to clean up the mess.
Stacks of alumina trihydrate sit in a burned out trailer in Leggett. Alumina Trihydrate is the pimary ingredient in flame retardant products.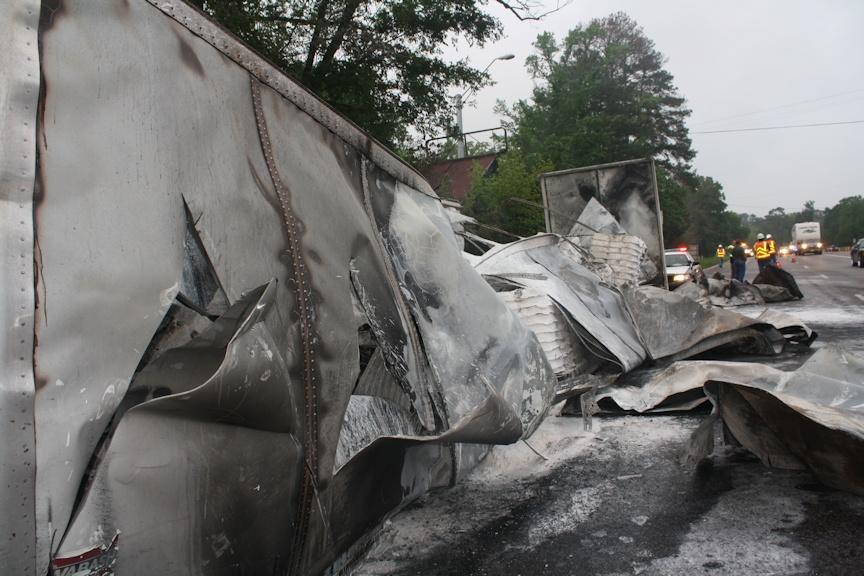 Volunteer firemen from Livingston cut holes into the trailer to get to the burning cargo.
If you would like to comment on this story, we'd love to hear from you. Be sure to put which story in the blank provided below. Your name and your comment will be posted in the Letters to the Editor.