Corporal Ramey Bass, with the Texas Highway Patrol, investigates a fatal motorcycle accident in 8297 block of US-59 (south of Goodrich).
Off Duty Police Officer Dies From Motorcycle Accident, GOODRICH, March 29, 2019 - At approximately 1:30 am on March 29, 2019, a black 2004 Chevy pickup, driven by Roy Smith, 57, of Houston, was north-bound on US-59 (right lane). According to Smith, his truck was jolted. Smith pulled to the left of the pavement and when he got out, observed a motorcycle crashed in the center median. The motorcycle had struck the rear Smith's pickup and then left the pavement to the left, crashed through a Crepe Myrtle tree, and came to rest in the center median. The motorcycle was marked as a police motorcycle and was being driven by William Guy, 56, of Groveton (Guy was wearing a helmet). Guy was a reserve officer for Jamaica Beach Police Department. Americare Ambulance Service was dispatched to the scene along with Deputy R.W. Thomas with the Polk County Sheriff's Office, and Corporal Ramey Bass and Sergeant Sam Lattner with the Texas Highway Patrol. EMS personnel immediately began CPR on Guy. Guy was transported by ambulance to CHI Livingston Memorial Hospital where he was pronounced deceased a short time later. The left lane of traffic on the north-bound side of 59 was blocked during investigation and cleanup. Both the motorcycle and the pickup were recovered by Fawbush Wrecker Service and will be stored in Goodrich. This accident remains under investigation by the Texas Highway Patrol.
WARNING

: The images below show scenes from a motorcycle accident. No blood is visible, however, if images of this nature offend you in any way, DO NOT scroll down this page.
Guy's motorcycle is a Honda Goldwing with police markings.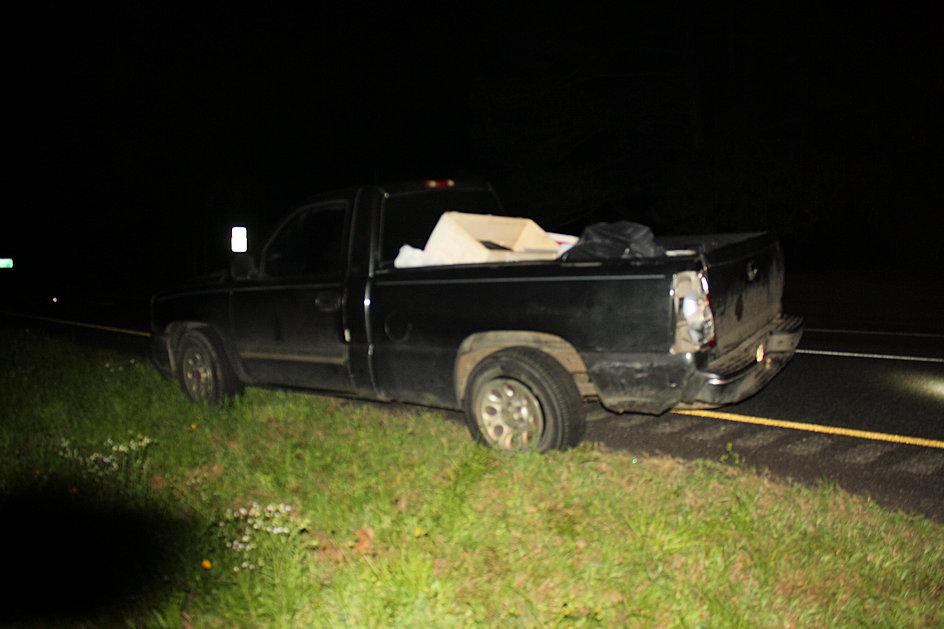 57 year old Roy Smith, of Houston, was driving this 2004 Chevy pickup. The tail light is broken out after being struck by Guy's motorcycle.
An opening in the branches show where Guy's motorcycle went through this Crepe Myrtle tree.
Tree branches were lodged into Guy's motorcycle.
If you would like to comment on this story, we'd love to hear from you. Email us at pctletters@gmail.com. Be sure to include the story subject in the subject line of your email, also list your name and town in your letter. Your letter will be posted in

Letters to the Editor

.