Trooper Ramey Bass (pointing) confers with Corporal Sam Lattner and Trooper Darwon Evans (all with the Texas Highway Patrol).
Fatal Accident, Car Strikes 18 Wheeler Head On, MOSCOW, March 28, 2012 - At approximately 3:40 pm on March 28, 2012, a white 2010 Toyota Yaris, driven by Ira J. Curry, 75, of Cleveland,
was south-bound on US-59 South in Moscow when his vehicle veered right and struck a south-bound 18 wheeler (trailer portion). Curry apparently lost control of his vehicle and rolled back to the left, through the median and entered the north-bound lanes of 59 where he had a head on Collision with a north-bound 18 wheeler driven by Roy Wells, 37, of Nashville, Arkansas. The collision killed curry on impact. Americare Ambulance Service was dispatched to the scene along with Livingston and Corrigan Volunteer Fire Departments, Sergeant Jason Paske, and Corporal Terry White with the Polk County Sheriff's Office,Troopers Ramey Bass, Sergeant Nita Bowen, Corporal Sam Lattner, and Darwon Evans. Roy Wells was transported to Lufkin Memorial Hospital with non-life threatening injuries. The collision totaled both the 18 wheeler and the car. Justice of the Peace, Larry Whitworth pronounced Curry dead at the scene. All north-bound traffic on 59 was blocked and eventually re-routed as one south-bound lane was used for streaming north-bound traffic. Representatives from TXDOT arrived on the scene to assist and help reroute the traffic. Ira Curry's was recovered by Clifton Towing out of Corrigan while Roy Wells' 18 wheeler was recovered by Riley Wrecker Service out of Corrigan where it will be stored. Traffic in Moscow was congested for nearly six hours as the accident was being investigated and cleared.
Special thank you: Ken with Ken's Towing and Willie A. Openshaw
WARNING

: The images below are images from the scene of a violent automobile accident. One image shows blood. If this offends you in any way,

DO NOT scroll down this page

.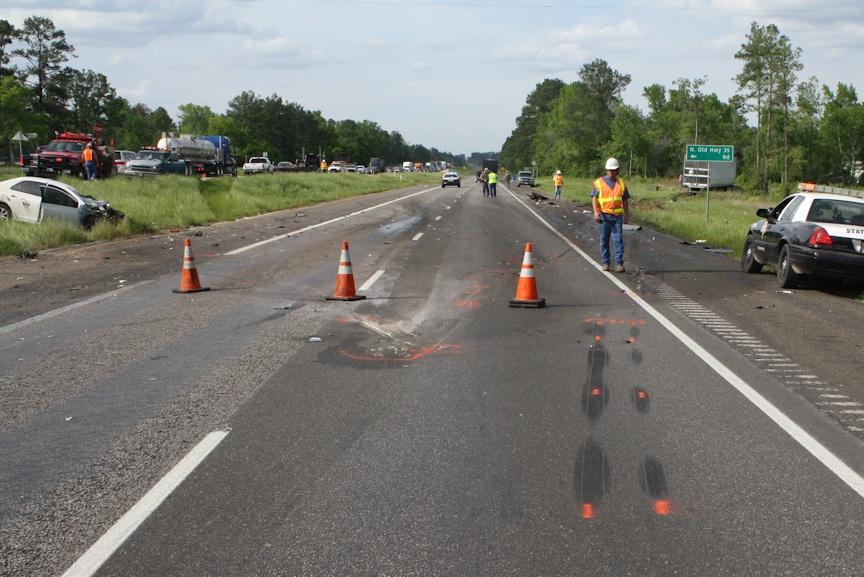 The collision knocked the 2010 Toyota Yaris back into the median while the 18 wheeler left the road to the right and struck a pine tree.
Driver Ira J. Curry was killed on impact.
Double trouble: The 18 wheeler collided with the car, left the road to the right and then collided with a large pine tree.
Trooper Ramey Bass had the unpleasant job of inspecting the vehicle's interior.
The recovery of the totaled 18 wheeler was time consuming as traffic was congested until well after 9 pm. The truck was recovered by Riley Wrecker Service out of Corrigan.
If you would like to comment on this story, we'd love to hear from you. Be sure to put which story in the blank provided below. Your name and your comment will be posted in the Letters to the Editor.