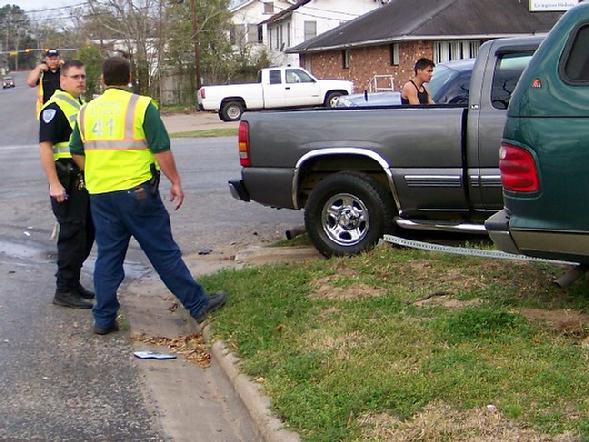 Officer Rob Atkins (left) speaks with Livingston Fire Marshall, Mark Taylor.

Morning Accident Hospitalizes Livingston Woman, LIVINGSTON, February 26, 2009 - Shortly before 7:30 am on February 26, 2009, a gray 1999 Chevy Truck driven by Jose Antonio Raya Hernandez, 46, of Livingston was east-bound on Abbey and attempted to cross Highway 146. Hernandez came to a stop sign but failed to yield right-of-way to a Green 2001 Ford F-150 driven by Alma Smith, 46, of Livingston. Smith's truck slammed into the front passenger's side of Hernandez's truck knocking both vehicles into a yard on the corner knocking over a stop sign. Officers Rob Atkins, Kevin Blackburn, Sergeant Lewis Milner all with Livingston Police Department were dispatched to the scene along with Livingston Fire Marshall Mark Taylor and an ambulance from Americare Ambulance Service. The front end of Smith's vehicle sustained major damage and Hernandez's vehicle sustained major damage to the front driver's side. Smith was transported by ambulance to Livingston Memorial Hospital with unspecified injuries. Hernandez was placed under arrest for failure to yield right-of-way, no driver's license, and failure to provide proof of financial responsibility (no insurance). One lane of traffic on Highway 146 was blocked as the accident was being investigated and cleared. Both vehicles were towed by Ken's towing and will be stored at Harrison's Body Shop in Livingston. The scene was cleared and traffic fully flowing shortly after 8 am.

Both vehicles ended up in someone's front yard (Stop sign under green truck).
The front end of Alma Smith's truck was crushed in the collision.
Alma Smith was transported to Livingston Memorial Hospital by Ambulance.
One lane of 146 was blocked as Lewis Milner directs traffic.
If you would like to comment on this story, we'd love to hear from you. Your name will be listed with your comment when it's posted in the Letters to the editor.