Accident Hospitalizes Drivers, LIVINGSTON, January 25, 2023 - At approximately 11:08 am on January 25, 2023, a white 2017 Nissan Maxima, driven by Jana Murphy, 35, of Livingston was west-bound on US-190 West. Murphy impacted the driver's side of a gray 2017 Toyota Camry, driven by Mindi Loret, 61, of Livingston. Loret pulled out of the parking lot of Serenity Pines and failed to yield to Murphy. The impact caused both vehicles to leave the pavement. Loret went through the center median and almost to the east-bound lanes. Murphy's vehicle came to rest in the grass next to the crossover. Allegiance Ambulance Service was dispatched to the scene along with the Livingston Volunteer Fire Department, a Deputy from the Polk County Sheriff's Office, and Trooper Sean Barnes with the Texas Highway Patrol. Both drivers were transported by ambulance to CHI Livingston Memorial Hospital with undisclosed injuries. Loret is likely facing a citation for failure to yield from a private drive. Murphy's vehicle was recovered by Ken's Towing and will be stored at Harrison Body Shop in Livingston. Loret's vehicle was recovered by LakeView Wrecker and will be stored in Livingston.

Special thank you: Ken with Ken's Towing
35 year old Jana Murphy, of Livingston, is tended to by emergency personnel. Officer Scott Paske, with Livingston Police Department arrived to assist.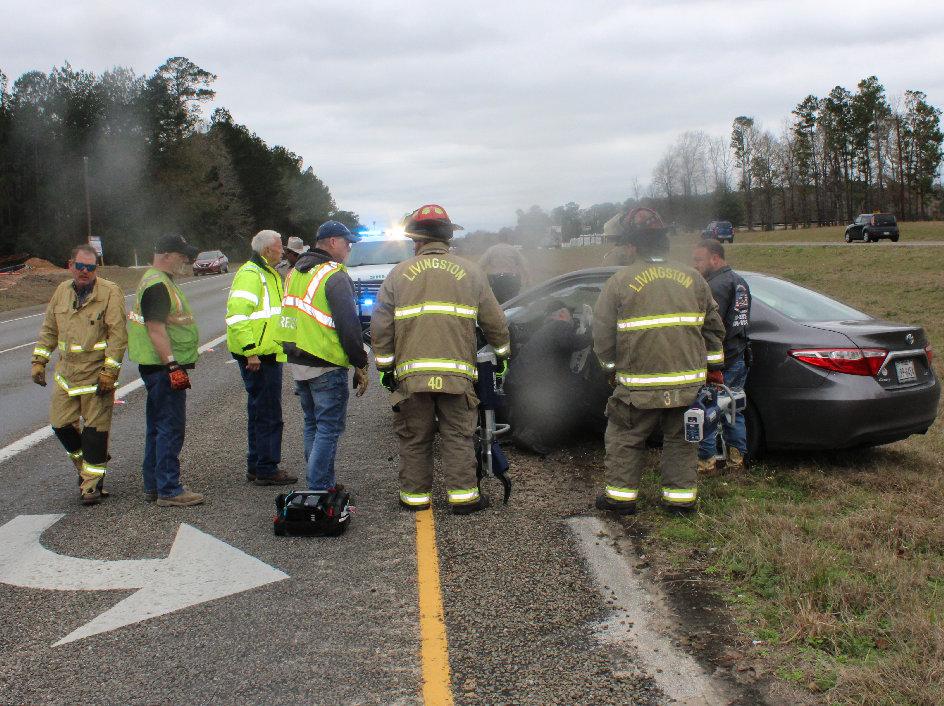 Volunteer Firemen from Livingston help 61 year old Mindi Loret from her vehicle.
Murphy's vehicle was recovered by Ken's Towing.
Houdini assisted with towing duties.
Mixi, Molly, Heidi, and Katy (the Dog Squad) were on duty for PolkCountyToday.com.
If you would like to comment on this story, we'd love to hear from you. Email us at pctletters@gmail.com. Be sure to include the story subject in the subject line of your email, also list your name and town in your letter. Your letter will be posted in

Letters to the Editor

.