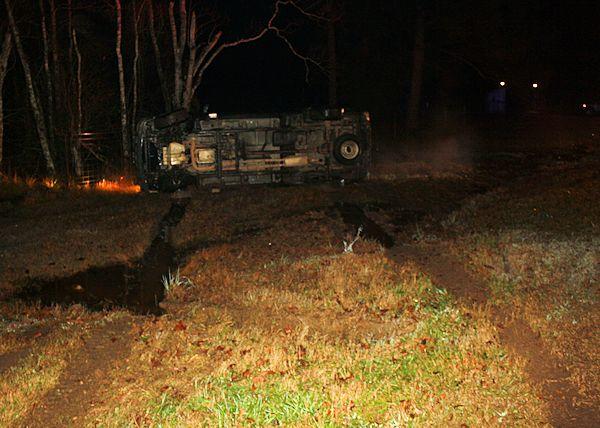 59 year old Jerry Wayne Grimes, of Goodrich, rolled this 2005 Chevy 2500 off FM-2665 near Sleepy Hollow Road.
Driver Rolls Pickup, Arrested for DWI, GOODRICH, January 23, 2015 - At approximately 7:25 pm on January 23, 2015, a black Chevy 2500 pickup driven by Jerry Wayne Grimes, 59, of Goodrich, was east-bound on FM-2665 when his pickup left the road to the left and slid sideways into the mud. As the pickup was sliding, it turned over on its passenger's side. Americare Ambulance Service was dispatched to the scene along with the Goodrich Volunteer Fire Department and Corporal Ramey Bass and Troopers Donny Akers and Zach Lenderman (all with the Texas Highway Patrol). Grimes managed to climb out of his turned over truck. He was examined and released by EMS personnel. Corporal Ramey Bass conducted a field sobriety test and placed Grimes under arrest for driving while intoxicated. His vehicle was recovered by Ken's Towing and will be stored at Harrison Body Shop in Livingston.
Special thank you: Ken with
Ken's Towing
Corporal Ramey Bass speaks with Grimes.
After conducting a field sobriety test, Bass placed Grimes under arrest for driving while intoxicated.
A worker cleaning up spilled contents from Grimes' vehicle picks up beer and whiskey that fell from Grimes' truck.
Trooper Zach Lenderman observes contents in Grimes' pickup.
Grimes' vehicle was recovered by Ken's Towing (Houdini pictured).
If you would like to comment on this story, we'd love to hear from you. Email us at pctletters@gmail.com. Be sure to include the story subject in the subject line of your email, also list your name and town in your letter. Your letter will be posted in

Letters to the Editor

.